Calendar for Monthly Rides

The Knickerbikers of San Diego County
www.Knickerbikers.com or Facebook

------------------------------------------------

------------------------------------------------

If you're looking for a moderate TUESDAY or THURSDAY ride, sign up on the TTBikers email list.
(You must be signed up on Yahoo.com before you can access the group's website.)
http://groups.yahoo.com/group/TTBikers/
We meet at various locations - leader's choice - at 9:30 AM. No requirements to lead a ride unless you want to become a regular, in which case the schedulers may bug you about it.
If you have any further questions, contact .
--------
Do you want a Knickerbiker jersey?
The Knickerbiker jerseys are manufactured by Voler.
Price: Sleeveless and short-sleeved: $93
Long-sleeved: $98

If you would like to own one of these jerseys, send Ken an email: membership @ knickerbikers.com
Want to cycle more?
If you're looking for a moderate TUESDAY or THURSDAY ride, sign up on the TTBikers email list.
http://groups.yahoo.com/search?query=ttbikers We meet at various locations - leader's choice - at 9:30 AM. No requirements to lead a ride unless you want to become a regular, in which case the schedulers may request you to do sot. If you have any further questions, contact:
Paula Halprin
Tuesday ride coordinator
phalprin@san.rr.com

Richard Andrews
Thursday ride coordinator
richsuea@aol.com

You'll find a group of Knickerbikers ready to ride every Wednesday at 9:00 AM at Mission Bay. The meeting spot for the WEDNESDAY LITE RIDE is Mission Bay Visitor's Center in the north parking lot (East Mission Bay Drive & Clairemont Drive). The ride is usually about 25 miles at an easy pace. First stop is usually a coffee break which gives us an opportunity to decide the ride route and lunch spot!
To get to Mission Bay Visitor's Center, take I-5 to exit Clairemont Drive. Go west to Mission Bay Visitor's Center. Turn right on East Mission Bay Drive, then make an immediate left into parking lot, and another left towards Mission Bay Visitor's Center.
The ORIGINAL WEDNESDAY RIDE heads out every Wednesday at 9:00 AM. A large group of riders meet at the Target parking lot (1288 Camino del Rio North, corner of Mission Center Road and Camino de la Reina) in Mission Valley for a 9:15 AM departure. The rides are "brisk" and cover about 30 miles. Yes, there will be a lunch stop along the way. All riders are welcome!
Riders are welcome riders to join the SATURDAY LITE RIDE which meets every Saturday at 8:45 AM at the Old Town Trolley station parking lot. The Old Town Trolley is located at 4005 Taylor Street. The ride is usually about 25 miles at an easy pace. First stop is usually a coffee spot where the riders decide where to ride and enjoy lunch!

Need ride details or additional information?
Call Ken: 619 450 0373 or Sharon: 619 787 7427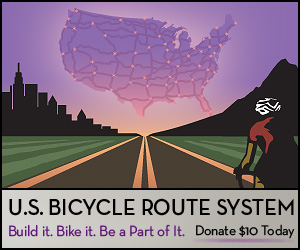 It. Bike It. Be a Part of It!

Want to help spread the word about this campaign?
http://www.adventurecycling.org/beapartofit
----------------------------------------------------------------------------------------------------
----------------------------------------------
The Knickerbikers of San Diego County

EXCURSION RATING KEY
**** SIGHTSEERS - Leisurely riding. Destination and scenic oriented. Frequent stops. No extreme grades. 8 - 12 mph
*** TOURISTS – Moderate to brisk pace. Scenic roads including hills. Stops every hour. No one gets dropped. 12 mph
** SPORTS RIDERS - Vigorous, peppy pace. Possible steep grades. Good workout. Stops every hour or two. 15 -17 mph
* MASTER RIDERS (Animals) - Anything goes. Possible pace lines. Slower riders dropped. Ready for competition. ? mph
PROMPT DEPARTURES
Rides depart 15 minutes past scheduled assembly time. Please be ready and waiting for departure.
Greet your ride leader!
-----------------------------------------------------------------------------
Annual Membership dues are $10. Where does the money go? If you get an email at least once a month from the Knickerbiker club servants providing you with the latest Bull-A-Ton and the location of the potlucks, etc., then you are a subscriber and you pay $10 a year to the club. Where does the money go? The Knickerbikers contribute to the San Diego County Bicycle Coalition (SDCBC), the California Association of Bicycle Clubs (CABO), Adventure Cycling Association (ACA), and the League of American Bicyclists. Also, we need to pay for web site hosting, the domain name and our photo gallery subscription. -------------Thank you for subscribing!.
If you wish to join or renew, just send $10 per subscription (email address) along with your name, address, email address, and phone number to
Knickerbikers
7450 Olivetas Ave. #298.
La Jolla, CA 92037
Or, easier still, send it via PayPal to knickerb@san.rr.com. It's easy!