RAAM (Race Across America) 2002 JOURNAL
TEAM SAN DIEGO
By Lois Horowitz, Trip Recorder

I have no title for this journal. There are several possibilities, all fitting:
Adam and Shawn's Excellent Adventure.
I Slept Through Wyoming.
What Was I Thinking?
I'm In The Army Now.
I Am Not Making This Up.
My Moving Experience.
A Day in the Life of a Neanderthal.
The Last One to the East Coast is a Rotten Egg.
My Surprise Vacation

RIDERS
Larry Gitman, 55.
B. Dayton, Ohio. 8/4/46. Prof. Of Finance at SDSU and textbook author (Purdue (BS); Univ. of Dayton (MBA); U. of Cincinnati (PhD)

Jeff Alexander, 50
B. Brown City, Mich. 10/13/51. Immunologist, Epimune. W. Mich. Univ. (BS, Biology, Biochemistry); Wayne State (PhD Immunology); UNC & Duke Univ. (Postdoctoral work).

Dave Sitler, 43
B. Salem, Oh. 2/27/59. Orthopedist, US Navy. Miami U., OH (BS Chemistry), Uniformed Services Univ. of Health Services (M.D.).

John Neborsky, 37
B. Windham, CT, 11/11/64. Supply chain manager. U.Phoenix, Business.

CREW
Herb Keller, 77
B. Patterson, NJ, 6/19/25. Prof. Applied Math. Emeritus., Cal. Tech. & Research Prof. UCSD. George Tech., NYU.

Guy Vaughn, ageless
B. Alexandria, LA, 7/5/xx. Engineer, Ret.; LSU (BS, Physics), OSU (MS, Electrical Engineering). NYU (Electrophysics), La Sorbonne, Certificate in French.

Lois Horowitz, 62
B. Perth Amboy, NJ. 5/26/40. Author; Librarian, Retired. UCLA (BA Art History); UCLA (MLS)

Marta Hurwitz, 60
B. Brooklyn, NY, 9/29/42. Chatham College, Pittsburg (BA Communications)

Thuy ('Twee') Nguyen, 37
B. Saigon, Vietnam. 7/7/64. Software Developer. UCSD (BS Computer Science)

Ken Snoke, 37
B. Waukeegan, Ill. 7/24/65. Founder of Charitylab (Charitylab.com); Northern Illinois Univ. U of Illinois Dental School

Heather Matthews, 26
B. Walnut Creek, CA, 8/8/76. Athletic Trainer, UCSD. UC Davis. Currently attending SDSU, Master's Program.

Adam Wilder, 21
B. Wayne, Mich. 8/6/81. Student on hiatus. Computers. Shawn Alexander, 19
B. Sandusky, Mich. 4/7/83. Student, Univ. of Wash., Seattle. Business.



| | |
| --- | --- |
| | |

The crew found out about this superlative opportunity to senselessly hurl ourselves across country in one week in various ways: our local bicycling club (Herb, Guy, Lois, Marta), occupation (Heather, who is an athletic trainer), friendship with one of the riders (Ken, Thuy) and relationship to a rider (Adam & Shawn, Jeff's nephews.) On the premise that people need to be jarred out of their comfortable routine once in a while, we naively volunteered for this job while other people presented with the opportunity were heard to have said, "You couldn't pay me enough to do this." Did they miss out.
The only crew requirements that I could determine is that you are breathing and possess a driver's license. Having now completed RAAM 2002, I would add some other prerequisites: a warped sense of humor, no phobias (especially claustrophobia), no fashion sense, a fondness for peanut butter and jelly, and a short memory.
RAAM turned out to be much more than advertised, the latter being minimal since no one, riders included, had ever participated in a RAAM before. Our mantra became, "We'll figure that out when the race begins" even though at the outset we could see that sleep deprivation would figure in prominently since the riders would be on the road 24 hours a day and somebody had to be pacing them in a van presumably not the CIA. (Participating in RAAM gave new meaning to the expression 24 hour day where we got to experience most of it.) No matter how much you prepare to crew for RAAM, you can't really be prepared for an experience like this. You do it for one reason -- the challenge -- riders and crew alike.

Among the more fanciful things (i.e. lies) the crew was told beforehand were:

"There should be time for restaurant meals along the way …"
"We'll probably stay in motels a few nights."
"We'll download pictures on the website when we stop at motels."
"The RV will drive on ahead and the crew can shop or do laundry."

Now for the reality (Ha, ha, ha, ha, ha. Excuse me.)

"There should be time for restaurant meals along the way …"
If there are any.
If you count gas stations as restaurants.
If they're open when you get there.

"We'll probably stay in motels a few nights."
If there are any.
If we don't mind staying two hours
If you take showers five at a time.

"We'll download pictures on the website when we stop at motels."
We never had electricity because we never stopped at a motel until the race ended.

"The RV will drive on ahead and the crew can shop or do laundry."
If anything is open when we get there.
If anyone is awake to shop or do laundry.

We also acquired a new vocabulary: hot bedding, marine shower and power nap. Was I worried yet? Yeeees.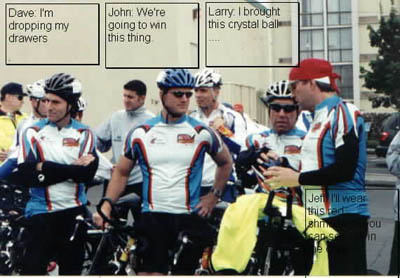 Once the race began, what turned out to be a surprise was how busy we were. Pacing a bicycle averaging twenty miles an hour across country conjures up images of utter boredom and lots of free time ("bring some CD's, audiocassettes, something to read.") It was anything but boring. We were very busy with food preparation, catching up on sleep, navigating (sometimes a group activity when the navigator was zoned out which happened more often as the days went on) discussing our location or next move, putting things away, looking for a place to shower and do laundry, and generally telling each other what to do. ("If you touch my camera, I'll kill you." - Anon.) When we weren't sleeping or slurring our words due to lack of sleep, we were on high alert. Our shifts changed every four hours and this resembled a fire drill with everyone running in a different direction, barking orders or reminders (Did anyone phone in at the time station?), checking and rechecking supplies, yawning, occasionally changing the shift schedule and then trying to get back on, charging off in a vehicle and sometimes running over someone's luggage (more on this later), romping through the fields in pursuit of a potty bush, yawning, retaping the flag and other fallen equipment back to the vans, back seat driving, yawning, preparing food and laughing.

My vote for the hardest thing about crewing for RAAM, if you haven't already guessed, is the sleep deprivation (Shawn, about Day 4: "I just want to go home and get some sleeeeeep." And if you should happen to catch some of Adam's photographs, they show his glassy stare, kooky grin and unshaven face which is definitely not how he looked on the first day.)

Intense fatigue results in some benefits. Most importantly, it dulls your senses to less delicate matters (mess in the vehicles, gross bodily functions which turned out to be quite a topic of conversation on the first few days - "Evacuate the RV!") The first thing that went was hygiene and all of its permutations such as cleanliness, tidiness, and organization, followed closely by modesty ("Close your eyes. I'm going to change.") We found out that it was best not to say, "Lois, don't look" because your first impulse is to look and say, "Don't look at what?" On the other hand there were certain people who gave no warning at all. He shall remain nameless.

We managed to fit (squish) seven people in an RVmeant for four along with the luggage of and food for 13. The RV did have a broom about two feet tall apparently formerly owned by one of the Seven Dwarves and though we made a valiant effort to sweep the goop off the 'kitchen' floor as often as possible, it always magically reappeared along with shoes, luggage, sleeping bags, and dirty clothes. Are you getting the picture?

No one argued about the up close and personal conditions which included increasing toxicity in the RV, things leaking in and flying out of the refrigerator (Why couldn't we open the refrigerator only when the RV wasn't moving? Because we weren't hungry when the RV wasn't moving), sleeping in our clothes (leave your tiara at home), indiscriminately sleeping next to just any old person ("Hi, my name is Typhoid Mary. Is this space free?"), the sameness of the meals (the hardest mealtime decision was whether to have peanut butter and jelly on white bread or that famous Jewish delicacy, peanut butter and jelly on a bagel) the irregularity of the meals (every four hours around the clock whether you needed one or not) and the infrequency of showers (whenever a campground appeared, preferably when they were open) because we told ourselves 'this-will-only-last-for-one-week, I-can-put-up-with-anything-almost.' (If this event lasted any longer we would be appearing on "America's Most Wanted.")

We were in concert on our primary goal which was to help the riders finish the race and do so safely. The race was ongoing and one of the riders was always on the road day or night, rain or shine, 29 degrees or 105 degrees. Toward this end, we required no other competitors in our sights to motivate us. The fact that the bikers were not to stop was the only reminder necessary that this was indeed a race. In fact, we went for long periods of time without knowing our place in the overall standings because we had to call a certain phone number to find out and we were just too busy. At the same time, we did get to see each other at our best and worst, the worst being in appearance by far since we were sleeping in our clothes and changing, oh, maybe every two days. The experience was much like an episode of Survivor (is there a Super Nightmare version?) where no matter how hard you tried, you couldn't get voted off. If anyone had left, the rest of the crew would have had to pick up their load and it would be hard to imagine the mayhem that would have resulted.

The riders were split into two pairs: John and Jeff, Dave and Larry. Each pair bicycled for about four hours before changing shifts with the other pair. During those four hours on the road, each rider of the pair would decide how long he would pedal before switching with his partner and this generally varied anywhere from five to fifteen miles. With each rider having bicycled about 750 miles apiece in what turned out to be six days and 20 hours, we estimate that each one burned additional calories by jumping into or out of a van on a rider exchange no less than 75 times.

Now for the daily log -- as much as I can remember and my own personal experience only since I was asleep or in another vehicle when nuttiness was going on elsewhere and according to the grape vine, it was.

------------------------------------------------------------
Preliminary Day 1 Sunday, June 16, 2002
Several people arrived at the airport Holiday Inn in Portland, Oregon and got together for dinner and a movie observing the "enjoy yourself while you can" philosophy. --------------------------------------------------------------

Preliminary Day 2: Monday, June 17, 2002
This turned out to be a very long and busy day during which we had a crew meeting, ran around town to add more driver's names to the three leased vehicles, attended a meeting of all RAAM participants, shopped for food and attended a banquet (well, some of us.)

Monday morning began with a crew meeting in the RV wherein we learned how to crew and develop character. This was also where we would learn the difference between fact and fantasy. A preview of things to come can be determined by these snippets of conversation:

"When are we going to find out how to do this crewing stuff?"
"When the race starts, a biker will be in each van and will tell you what to do."
"Terrific."

"I don't know how to drive an RV."
"That's okay. You can learn."
"When?"
"We'll do a practice run around the parking lot after the race starts. The RV doesn't have to pace the riders."
"Good. I wouldn't want to run over one of them."
"Neither would we."

Lois: "I've never driven an RV before so I don't think I'll be driving."
Herb: "I've never driven an RV before either and I'm driving."
Shawn: "I just got my license and I'm driving."

Oy vey. We were making this up as we went along.

We received a quick lesson in how to use a CB. We were to use channel 25 which we later learned was frequented by truckers in certain states who have interesting and strange vocabularies not known to normal human beings, good buddy. We also learned how to adjust the squelch which made lots of noise. Its true purpose was never determined except to provide yet another hurdle for us to overcome. After a few days, thinking was a hurdle to overcome.

We were informed by our crew chief who shall remain nameless (Ken Snoke and I can give you his address) that our CBs were bottom-of-the-line close-outs. The true impact of these sale items did not become apparent until the first ten minutes of the race when we discovered their 'whites of their eyes' range. Most of us soon became proficient at lip reading, hand waving and swearing. A bullhorn would have been a good alternative but we might have scared the riders off their bikes. (It would have been a good weapon against the two teams that were ahead of us but we never caught up to them to try it out.)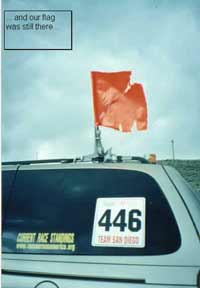 We were instructed on using the headlights and flashers when following a rider, checking in at each of the 54 time stations across the country each of which was spaced about 50-75 miles apart (this involved making a call on a pay phone in a pre-designated gas station or market that was sometimes unfindable in the middle of the night if they were closed and their lights were turned off) and to reset the odometer back to zero to coincide with the distances between time stations as marked in the route book so we could properly navigate. These instructions were quite explicit. Our execution of them was not always thus since the cumulative effect of sleep deprivation had a tendency to make otherwise easy tasks (like pronouncing words) progressively more difficult.

We spent more time than the average second grader learning how each vehicle's flashers, parking brakes (on one van, we kept popping the hood instead) lock/unlock buttons and other do-hickeys and gizmos worked, evidently not catching on quickly enough since the rider often had to knock on the back hatch to get his bike out. To make matters worse, somewhere along the way, the 'unlock' button in the tan van started locking the door, and the 'lock' button unlocked it leading us to believe that our van had become an instrument of the competition.

We were asked to keep the vehicles and RV germ-free and to put everything back in its place. Doesn't everyone?

We agreed that back-seat driving would be acceptable due to the anticipated sleep deprivation and emphasis on safety first.

We named the tan van "Tan Van" and the blue van "Blue Van". We tried to be more creative (La Jolla Blue, Del Mar Tan) but names were rejected as too cerebral to try and remember. Blue and Tan were hard enough. "We're on vacation. We don't have to think."

Each vehicle had an envelope containing gas money for the entire trip. This was not to be used for bus fare in the event of crew mutiny which we were told by a RAAM official was a distinct possibility. One year, a melted-down crew member who apparently did not share the team's sense of mission had the chutzpah to drive off in one of the support vehicles apparently never to return. (Before officially assuming his mantle of authority -- a blanket with a hole cut in the middle -- our crew chief said that if there was a mutiny, he would surrender without a struggle and join us.) Anyway, as we later learned, the gas money plus all the tea in China would not successfully serve as bus fare, since buses are nonexistent in the middle of nowhere which is where we spent most of our time.

Standard equipment was a bicycle tool kit in each vehicle, extra bike parts and first aid kits which we hoped never to have to use. On the premise that we were prepared for it, we hardly used them at all. Good move.

We were asked to use the RV bathroom as little as possible due to the potential fragrance, a lack of volunteers for latrine duty and the length of time it might take to find a campground to empty the holding tanks.

Crew chief, Ken, explained our rotation which he said required PhDs in Aerodynamics and Ballet to devise. It was one of those tasks that took longer than expected. Ken came up with a 16 hour rotation consisting of four shifts of four hours each. Each pair of crew (one driver and one navigator) would move from Van 1 to Van 2 and then to the RV for two consecutive four-hour shifts there, one of which was sleeping or making an attempt at it. Each person would have an additional 'rover' shift in the RV due to the uneven number of crew (9) during which he/she would do whatever needed to be done (clean up, cook, or catch up on sleep; usually all three.) This rotation resulted in a 12 hour driver/navigator shift which each of us would experience several times during the week. Under sleep-deprived conditions, this was not an easy sequence. When a driver going on shift was asked "Are you okay to drive?" the underlying meaning was "You'd better be awake for this shift because I'm too young to die." Trust is important but sleep is more important.

The last and perhaps the most important rule as stated prominently in the RAAM rule book was that there was to be no dancing naked during or after the race.

Having emerged well-informed from the morning crew meeting, we remained in the parking lot near our vehicles for bicycle inspections and other preliminaries. During that time, we enviously eyed the other team vehicles. The RV belonging to the women's relay team was bigger than ours and had an added hitch on the back for luggage. We speculated that their RV might also be fully equipped with a hot tub and wet bar. They were going in style! We were saving money! All vehicles were festooned with sponsorship decals. Except ours. This led to the following statement made by Jeff at the rider interviews.

RAAM Official: "Tell us about your sponsors."
Jeff: "I'd like to but we don't have any."

Just becauseTEAM SAN DIEGO was underfunded, it did not mean that we weren't serious.

John: "Thuy and I stopped off at a Jack in the Box for those Jack heads on a stick for the vehicle antennas but we couldn't find any. And yesterday, we went shopping for sheets for the RV beds. We found some Barbie sheets but they were too small."

Just before the bike inspections:
Someone: "Make sure the numbers on the bikes won't blow off."
John: "They will when the women's team passes us."

Guy was watching the women's team practice rider exchanges in the parking lot and admiring their thighs. "We're not doing that (practice). We're gonna have fun."

With all the ceremonial and heavy-duty business stuff out of the way, we were ready to stock the RV. At 4:15 pm, Thuy, Marta and I left for Costco, Fred Meyer (a supermarket) and K-Mart for food and supplies. This was another of those grossly underestimated tasks that took us no less than five hours. We crammed so much food into the van that there was hardly room for the third passenger. If you include the time it took us to chase a flat of oranges rolling all over the Fred Meyer parking lot when the rear van door was opened, we did not return until about 9:30 pm. You would not believe how hard it is to spend $500 on food and supplies for 13 people. We missed the banquet which started at 5 but did you know they have Rubio's in Portland?

All of the above confirmed my worst suspicions but with my warped sense of humor intact, I was not backing out now. Anyway, my fortune cookie said that I was going to travel far and wide and fortune cookies are always right. I may be crazy, but adventure vacations are my idea of FUN!

Day 1 - Tuesday, June 28, 2002. Race started at noon.

| | | |
| --- | --- | --- |
| Time Station | Distance between stations | Total Distance completed |
| Portland | 0 | 0 Race started at noon |
| 1 Maupin, OR | 96.8 | 96.8 2 |
| Fossil, OR | 69.6 | 166.4 |
| 3 Lone Creek, OR | 79.0 | 245.4 midnight |
| 4 John Day, OR | 35.5 | 280.9 |
| 5 Unity, OR | 50.5 | 331.4 |


All riders and crews assembled in the parking lot of the airport Holiday Inn in Portland at about 9 am to prepare for departure at noon. The "Beach Boys" were blasting in the TEAM SAN DIEGO'S RV tape deck but there was neither sun nor surf in sight. Adam and Shawn were observed to be entirely too optimistic while the riders were frowning at the weather conditions. It had started raining the day before and was doing likewise today.

Another crew meeting had been scheduled but was cancelled on the premise that we were fast learners. Besides, we had to put away all that food and take pictures. While packing the RV, we turned the bathroom into a luggage closet since we had no intention of using it as a bathroom. Anyway, there was no place else to put all the luggage.

The bike riders decided who would start the first four-hour shift in the rain John picked the short straw which meant his partner, Jeff, did too (I presume the selection was more scientific than that but knowing this fun-loving group, you never know. J)

At 11:30, all teams went to the staging area to be introduced. (About 15 solo riders had left two days earlier. They would be riding about 22 hours a day and sleeping the rest of the day. Wow.) A surfing reference for TEAM SAN DIEGO was not overlooked by the announcer who made sure to mention that the nearest beach was 70 miles away. (A close look at the emblem of our biker's shirts will reveal a cartoon-like surfer dude.)

After much applause and picture-taking, the riders were finally on their way. "Break a leg!" was not the best send-off. All riders were to bike fifteen miles together to the suburbs where the race would officially begin. Our turbo-charged crew sprinted to their respective vans and trailed the riders: Heather and Adam (driver/navigator) were in one van and Thuy and Guy in the other. In the RV were Herb, Ken, Shawn, Lois, and Marta. Ken, who drove the RV on the first shift, presumably because he was the only one who knew how, brushed his teeth in the driver's seat and swallowed the toothpaste. Hmmm. Marta and I were on the noon to 4 pm sleep shift but couldn't just because the schedule said so. You can immediately see how things were nicely falling into place.

Having completed our three-minute apiece RV driving lessons in the parking lot, we departed. Our first stop was K-mart, about five miles away from the Holiday Inn where we stopped to pick up an extra atlas. This was also where our CB antenna fell off the RV hood because the magnetic base of the antenna would not stick to it. Without an antenna, communicating with the other vehicles had been seriously compromised to put it mildly.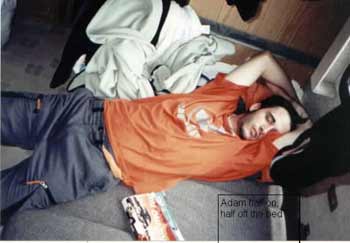 The RV drove about 85 miles east to a town called Shanico where all the RVs were to wait for their riders. We brilliantly deduced that we were out of the city when we started hitting towns named Antelope, Fossil, Spray, Fox, and Prairie City. Shanico was also the scene of TEAM SD's first break-down in the rotation schedule which is quite an impressive debut in the almost non-existent field of RAAM crewing especially since we were only about four hours into a week-long race. Unfortunately, I don't remember the reason for the schedule break-down and neither does anyone else I asked. All I remember was that everyone was running around trying to decide who would drive which vehicle and since our crew chief was out jogging, we couldn't make the decision. The other crews heard our raucous discussion and thought we were arguing. Imagine that. TEAM SD was rapidly adding to its reputation -- underfunded, laid back and now fractious.

6. Vale, OR 64.2 395.6 late morning

While other people were home fretting about the degree of perfection in their lives such as getting eight hours sleep per day, having regular meals, taking showers and changing their clothes on a daily basis, the RAAM crew felt like they had joined the Army. On awakening from our first overnight on the road, we discovered that no one gets a straight eight-hours sleep. Forget that right away. Not with four hour shifts. A typical morning routine would be like this. You get up from your sleep shift but you don't have to get dressed because you already are. Shower? Forget it. Privacy? Pfffft. Then, if you were going on a van shift, you make something to eat from our limited supply of gourmet camp food. You comb your hair with your fingers and brush your teeth at the first available stop and spit on and pee in the landscape. Classy, huh?

At this early stage, Larry, in one of the vans on a rider shift, apparently still thinking he was in La Jolla where he does not spit on and pee in the landscape, CBed with the suggestion that we stop at a motel for showers. Silly guy. And who exactly did he think was awake to take a shower? No one. I know. I was driving the RV which you may recall I said I'd never do and I was the only one awake but just barely. Everyone else was out cold including Adam who had just been driving and had now become a hazard to himself as well as to everyone else.

As people started to awaken, we kept an eye out for a motel just to keep our spirits up and pretend we were still normal. Now don't get the idea that there are motels every five miles in these parts. What we found was wildlife indigenous to the area -- bovine beauties, turtles, armadilloes and such -- trees and boulders, but motels? Nnnnnno. We were in a botanical paradise, a backdrop for a dinosaur movie teeming with things that creep, crawl, and go scrunch, chirp and gribbit in the night. Show me the electricity! Our RAAM route book did say there was a motel in or near Auburn, Idaho (we had just crossed the Idaho state line at about 11:30 a.m., the land of potato ice cream which we never got to sample, thank God) but the RAAM route book did not claim to be 100% accurate. The motel was out of business so we drove another 12 miles to an RV park which had showers. Since this was also a time station, we learned that the Brits were 3 1/2 hours ahead of the RV (which meant about 4 1/2 miles ahead of our riders who hadn't caught up to us yet) and the Swiss 1 1/2 hours ahead.

As far as the showers were concerned, there was good new, bad news and really bad news. The good news was that the office (and showers) opened at noon and we in the RV had arrived at 11:59 a.m. The bad news was the lady running the place was twenty minutes late. (When we arrived, we estimated that we had the luxury of about a two-hour layover before having to hit the road again. Time was ticking away.) The really bad news was that the pump that operated the water for showers and toilets was not working. Luckily, the pump man soon arrived and fixed everything leaving us with about half an hour to shower, get back in the RV and charge off down the road with Ken's bathing trunks hanging over the RV mirror and my tennis shoes hanging out the window. (Still the best $2 I ever spent.) How did we acquire that instant Beverly Hillbillies look after just one day? For me, it was easy. The spray in my shower at the campground shot across the stall and proceeded to fill my tennis shoes with an inch of water. Since these were the only shoes I had brought and since tennis shoes are not known to dry quickly, what was a girl to do?

77. Givens Hot Spring, ID 58.0 453.6 around noon Tuesday.
DAY 2 - starts at noon. Wed., June 19, 2002

| | | |
| --- | --- | --- |
| Time Station | Distance between stations | Total Distance completed |
| Grand View, ID | 48.0 | 501.6 |
| 9 Bliss, ID | 69.5 | 571.1 |
| 10 Twin Falls, ID | 43.7 | 614.8 |
| 11 Burley, ID | 42.1 | 656.9 |
| 12 Snowville, UT | 84.5 | 741.4 late Wednesday night |
| 13 Ogden, UT | 72.0 | 813.4 |


Today was a big screw-up day where several of us had the chance to backslide (and this was only Day 2!) and add to our growing knowledge of the true character of our riders whom many of us had never met before this event. (!!!!) Each rider had his unique riding persona, presumed to be the sum total of his genetic inheritance mixed with a large dollop of stress. (And no one turned out to be an ax murderer.) This is what I observed:

Dr. Dave was labelled as the quiet one who was the least likely but the first to lose his inhibitions. ("Don't look!" Drop. Or sometimes he would just Drop without any warning whatsoever.) He was also the one who loved to climb hills (a rumor started by his partner, Larry, which Dave promptly denied) and who needed constant reassurances that the van was behind him by occasional chatter into his earpiece. Some of us (me) sadistically tormented him: "There's a nice jacuzzi waiting for you at the end of this shift." "Think of a nice cold drink, a shower, clean clothes." He nearly went insane.

Uncle Jeff was the eternal optimist. Each time we would ask him how his riding shift went, his reply would be, "Excellent." As time went on, "Excellent" was reduced to a whisper. Later, we would stare into his glazed eyes with his lips stubbornly forming the shape of that word but nothing coming out of his mouth. Within several days, he was crawling into the RV on his hands and knees with a five o'clock shadow, glassy stare, goofy grin and his lips still moving. A Manchurian Candidate is born.

Larry called his shift going to the office complete with occasional oversleeping and coffee breaks resulting in a few Keystone Cops rider exchanges. It also came complete with observations on the landscape (cows were 'nice props'); thinking he had seen a dead body in a ditch (hallucination or the real thing?); and screaming at the sight of scorpions. ("I wasn't raised in the country.")

John set aside his happy-go-lucky personality for being the serious rider (he actually had his heart set on winning this race even though everyone else was satisfied just to finish) therefore he was tested often to help him toughen up. Maybe that was why he got all the up-hills on I-80 and Jeff got all the down-hills (we were not allowed to switch riders except at an off-ramp.) Plus, if you recall, he got the first shift in the rain at the beginning of the race (do you suppose he actually volunteered?), the handlebar padding came off his cutting-edge bicycle, he broke his high tech light and other character-building incidents too numerous to mention.

The screw-ups for the day went as follows, not necessarily in the order given because the days and the time of day were no longer distinguishable. (We were starting to drop like flies.)

Incident 1: John's handlebar light came off. He tried to hold it while he was riding but he hit a bump and it fell and broke. After that, Dave had to lend him his. This was just one more thing to worry about during the frenetic rider exchanges.

Incident 2: Heather drove a van 20 miles before she realized she had the parking brakes on (was it the smell of burning rubber that tipped her off?)

Incident 3: The tan van lost its reflector triangle. Vans were not supposed to ride without this safety feature, risking a penalty if caught. The question is, however, once it's lost, how do you get a new one while on the road? Marta was looking around the landscape trying to figure out how to acquire one, possibly stealing one off a tractor. There were many around leading us to believe that there must be an orange triangle store somewhere nearby. We even thought of rigging one up from orange plastic bits we saw laying around in the fields. We arrived at a time station and I believe it was Adam who boldly asked the Swiss crew who was parked there if they knew how to get an extra triangle. As it turned out, they had an extra one on their RV that they didn't need and had actually covered up. They gave it to us, proving the theory that it never hurts to ask even the competition.

Incident 4: It is said that when I started my first van shift that evening that I ran over Dave's canvas bag on take-off.

Thuy: "Dave, your bag is foaming!"

His shaving cream thingy had burst. Well, it was dark. And for my next act ….

Incident 5: Ken (driver) and I (navigator) thought we had missed a turn. When we reached our bike rider, Jeff, we threw him and his bike into the van ("Excellent") and returned to the point about three miles back where we thought we had deviated, discovered that we hadn't and then found out that we were only about 1/4 mile from the time station (around a small bend) all along.

Incident 6: Thuy, her navigator, Heather, and their biker, John, were waiting for Ken, Jeff and me at the gas station/mini mart for the rider exchange. Guess who wasn't ready? Well, it sure wasn't John. Thuy was inside the mini-mart ordering some burritos for John who, when he saw us approach, took off in the semi darkness. Thuy did one of those Keystone Cops routines, twirled around, shouted, jumped, screamed, asked us to pick up the burritos and drop them off on our next rider exchange whereupon she jumped in the van and took off after John. (During the daytime hours, we were not required to pace the rider at all times but at night, it was mandatory as they had to ride in our headlights. This resulted in the need for very precise shift changes when it was dark. It also led to some differences of opinion as to when it was really dark.)

Incident 7: This was the first of two consecutive van shifts that Ken and I had had that night. The second came waaay after midnight. At this time, I was driving and Ken was navigating. The riders had lots of climbing and it was very cold. We further noticed that the more we drove or rode, the more the lights that we saw in the distance seemed to recede. It could have been hallucinations. We preferred to think that it was science at work.

Since I am not generally at my best at three a.m., while parked alongside the road waiting for Dave to show up on his bike for the rider switch with Larry, I leaned my head on the steering wheel and instantly fell asleep. I was told that Larry asked me if I was okay ("Of course I'm not okay. I'm tired!") and Ken walked me around the vehicle and dumped me in the passenger seat. Ken and Larry then substituted as co-navigators. (Falling asleep on the job would occur with increasing regularity as the days passed. Ken and Larry were just not used to it yet.)

Larry made a slightly better show of faking his sleep deprivation than I did but he finally gave himself away in the following incident. With Ken now driving again and I pretending to be lucid, Larry, who was waiting to take over for Dave, charged off downhill on his bike at a very serious speed. Unfortunately Dave hadn't showed up yet to do the rider exchange. Wondering what that was all about, Ken and I chased Larry in the van with double flashing lights, horn beeping and screaming and Dave chasing us on his bike wondering when the rules had changed. Brilliantly sensing that something was wrong, Larry finally stopped, the exchange was made and we threw the frisky but hallucinating biker into the van.

Incident 8: Since it was very cold, Larry took a coffee break and missed a rider exchange so we had to throw him and his Espresso back in the van (his bike, too) tear ahead a few miles and redo it. (Missing rider exchanges, in view of the hundreds that were done in the course of the week, were well within the statistical norm, whatever the statistical norm was.)

But Larry did get to meet up with his son who lives in Salt Lake City.

DAY 3 - starts at noon. Thurs., June 20, 2002 I woke up in Ogden, Utah although I'm not sure of the time of day. Waking up somewhere doesn't necessarily mean that it's morning. In fact, we didn't know which part of the day we were headed towards, night or day. You will notice that we went from Utah to Wyoming and back to Utah again. This is not a mistake. Utah and Wyoming overlap each other and we cut across the outer edges of both states.


| | | |
| --- | --- | --- |
| Time Station | Distance between stations | Total Distance completed |
| 14 Woodruff, UT | 65.7 | 879.1 |
| 15 Mountain View, WY | 59.5 | 938.6 |
| 16 Manila, WY | 48.0 | 986.6 around noon |
| 17 Vernal, UT | 62.0 | 1048.6 |
| 18 Dinosaur, CO | 33.6 | 1082.2 |
| 19 Craig, CO | 86.0 | 1168.2 |
| 20 Steamboat Springs, CO | 42.8 | 1211.0 around midnight |


It was only the third day and a new trend was emerging. More navigators were falling asleep on the job on a regular basis and the driver was forced to memorize the route with the help of the biker when he wasn't riding. In an ideal world, we would have had a chauffeur and drugs but this was far from an ideal world except maybe to a naturalist. (I now know the solution to not being able to sleep sitting up in an airplane on a red-eye or long flight. Stay up for the previous 48 hours.)

More Motrin Moments were on the horizon. While still in the west passing over lots of mountains, we lost partial CB communication in one of the vans. They could send but couldn't receive. This resulted in a new form of communication. 'Blink your lights if you heard me' or sometimes it would be 'blink once for yes, twice for no.' (Our cell phones had stopped working long ago.) We had lost touch with civilization as verified by Motrin Moment # 2.

On Thuy's and my late night/early middle-of-the-night shift, at a higher elevation, we came upon an extremely nasty sight and Dave, our van's bike rider, brought it to our attention, thank-you-very-much. He had removed his bike from the van preparing to take over for Larry when he arrived and in his bicycle lights, he noticed red things all over the ground. He tapped on our van window to point it out to us. "Scorpions! Look!" "Yuk," I shrieked, rolling up the window. Dr. Dave was right. There were scorpions up the wazoo. There must have been a mile of them. "And don't even think about getting back in this van any time soon."

Undeterred, Dr. Dave shared this perverse news with Larry when he showed up for the rider exchange. We could hear Larry scream over the noise of the heater. Then Larry went and blabbed about it to his van crew and Heather who was supposed to change drivers with Herb refused to get out of the van, instead climbing over him.

The inclement nights in the mountains were tough for the riders with temps as low as 29 degrees. The midnight to four a.m. shift was frigid but the four to eight a.m. shift seemed even colder. The riders would be shivering from the cold, come into the van and try to warm up while their partner was riding, then go back out into that freezing cold again. This makes men out of boys and crazy people out of normal ones. Guy's observation about RAAM in general: "There is no other activity where a bunch of men respected in their fields (our bicycle riders) would let a bunch of 19 and 20 year olds tell them what to do."

We started taking personal hygiene to a new low but I am only speaking for myself. While attempting to eat while driving a van, I repeatedly spilled food all over myself. Naturally, I slept in those clothes, too. (The up side is that it keeps you cemented to the rack while sleeping in the rocky RV.)

A warm and fuzzy moment: At a highway turnoff in Utah, Jeff (the rider) saw a goat with his horns stuck in a barbed wire fence and asked his van navigator, Ken , to run down and get him unstuck.

Around dinnertime (dinnertime for normal people, that is), the RV came upon another opportunity to take showers at a KOA (Kampground of America). On returning from the men's shower, Dave asked me if I wasn't going to take a shower while I had the chance. I said, "Why? I took one yesterday." Just kidding. Our motto was take a shower when you can. Just ask Heather who had to go about four days before getting her first one. (And Heather had the nerve to complain about the fragrance in the RV.)

DAY 4 - starts at noon. Friday, June 21, 2002


| | | |
| --- | --- | --- |
| Time Station | Distance between stations | Total Distance completed |
| 21 Wolcott, CO | 70.3 | 1281.3 We pass over Tennessee Summit (Continental Divide, elevation 10,424 feet) |
| 22 Leadville, CO | 47.5 | 1328.8 |
| 23 Salida, CO | 58.0 | 1386.8 |
| 24 Westcliff, CO | 47.2 | 1434.0 around noon |
| 25 Walsenburg, CO(halfway) | 57.3 | 1491.3 |
| 26 Trinidad, CO | 37.5 | 1528.8 |
| 27 Kim, CO | 70.0 | 1598.8 |
| 28 Springfield CO | 49.6 | 1648.4 |


This day seemed to have the biggest and most climbs. We passed over the Continental Divide (Tennessee Summit) just before Leadville, Colorado at an elevation of 10,424 feet. This was also the day in which we noticed that it was starting to take four people to do the thinking of one. We noticed that the benefits of sleep deprivation (there are some) had sinister implications. We were acquiring the ability to sleep in any position. This could be sitting, standing, slumping, half on a bed and half off (Adam was seen sleeping with the lower half of his anatomy suspended in mid-air), sleeping on someone's arm (I slept on Shawn's arm for half an hour and neither he nor I felt it), frequently sleeping with someone's feet in one's face and not noticing, ad nauseum. Plus we were falling asleep in the middle of a conversation. ("Am I that boring?")

Marta, to Herb at a rest stop: "I went to sleep next to you and woke up next to someone else." For this remark, she received a startled look from a man standing a few feet away.

CB talk was starting to deteriorate: "Shut up, Tan Van." We also started to speak in tongues, stutter, experience difficulty forming words, forget easily and frequently, and generally talk nonsense. Early in the race, "How do you feel?" was answered "Like a million bucks." The answer turned into "Like a buck two fifty." Huh?

Details started going down the drain. We were supposed to keep the triangle on the back of the van covered unless we were following racer. We did that one time, maybe two.

Dr. Dave started to forget names. He called Heather 'Helen' and Larry 'Jeff' which prompted Larry to reply: "My friends call me Larry" and Lois to say: "I don't think I'm going to ever want you operating on my knees."

'Helen' and Lois pairing on a van shift required five minutes to add two numbers of the two-digit variety however we did think of suggesting to the riders that the next race they do should start in Alaska and end in Miami. Portland to Pensacola is just too whimpy. NOT.

On my driving shift, with Guy navigating and Larry the biker in our van, we got lost in Salida, Colorado. Fortunately it was daytime and only due to extreme good karma did we manage not to miss the rider exchange completely. We were lucky because Dave agreed to take a long riding shift -- 15 miles. When we reached the proper mile marker for the time station to appear (this was where we were supposed to meet for the rider exchange), guess what? It wasn't there. We determined that we had missed the 291 turn-off into Salida. Getting back on track when you don't know where you are, don't have the right kind of maps and you just so happen to be participating in a race is a challenge you don't want to experience often. We asked a pedestrian where the Phillips 66 Gas Station was on Highway 291. "Don't know. Ask at Long's Drugs." We burned rubber to Long's Drugs wondering why we were going there and stopped short. Did a uuueeee, charged back to another Phillips Station we had passed, ran in, found out that their downtown station was the location of the Checkpoint Charley, got directions through some residential streets to it about a mile away, smoked over, emerged from a side street, saw the RV, dumped Larry and his bike to prepare for the rider exchange, tried to find out which way to go since we had gotten off track and didn't know, made an effort to prompt Larry as to the turns he had to make to get out of town whereupon he screamed, "Holy shit, here he comes" at the sight of his partner approaching prompting Guy and me to charge back to the van and head off behind Larry. Thank heavens for daylight. Larry was able to see the RAAM arrows painted on the streets to help direct him out of town while we were stuck in traffic. A close call.

Laundry opportunities were unexpected so the rule about having all your laundry in a 'laundry bag' (ha ha ha ha ha) was a joke. The definition of laundry was a joke. After a few days, everything was laundry including what we were wearing. Also, we all were given identical TEAM SAN DIEGO T-shirts which considering our mental states, was not a good idea even though we labelled them with our names and presumably could read. Too much trouble when you're sleep deprived. Riddle: How can you tell sweatshirts apart if they are all the same design? By the stains. When we finally found a laundry, we grabbed all clothes hanging from cupboard handles and flung around the RV and threw them in the washing machines. What a luxury clean clothes are even if they're someone else's.

We speculated on why the Brits were so far ahead. They were younger, better and longer trained and better funded. It was rumored that they spent about $100 K on their team which included the cost of getting everyone from England to Oregon. We envied the crew's perks. They had about five more crew than we did, probably had an additional vehicle to accommodate them, most likely wore uniforms, got to brush their teeth and sing "God Save the Queen" three times a day, sleep more hours, and I'll bet they didn't have to sleep with anyone's feet in their faces.

DAY 5 - starts at noon. Saturday, June 22, 2002

| | | |
| --- | --- | --- |
| Time Station | Distance between stations | Total Distance completed |
| 29 Boise City, OK | 48.2 | 1696.6 around midnight |
| 30 Guyman, OK | 61.6 | 1758.2 |
| 31 Slapout, OK | 78.0 | 1836.2 |
| 32 Mooreland, OK | 55.2 | 1891.4 |
| 33 Lahoma, OK | 65.0 | 1956.4 around noon |
| 34 Stillwater, OK | 75.5 | 2031.9 |
| 35 Bristow, OK | 57.0 | 2088.9 |


Today, my work day (a 12-hour shift) started at 4 p.m. which meant I'd be driving and navigating till the middle of the night. What worried me was that I was spending more time sleeping during daylight hours and being awake during nighttime hours. I was definitely not in sync with the Earth's rotation around the sun.

The lower elevations started bringing us warmer weather. The midnight to 8 a.m. shift was not so cold anymore and the bike riders were actually able to ride without parkas.

The daytime temperatures were hovering around 100 degrees. We were in Oklahoma, the home of farm subsidies and oil wells. You could look around for 360 degrees and see nothing which made the term Rush Hour an oxymoron. Signs saying "Windy Cross Roads" were permanent. Despite all the signs pointing to cemeteries, there were lots of wide open spaces but little indication of the people they put in the cemeteries.

Thinking was becoming harder; clear thinking impossible. The mind and the mouth were no longer working together. Long term memory was the first to go followed by short term memory followed by forgetting what we were saying in the middle of saying it. We were unable to retain a thought longer than one nanosecond. We couldn't remember directions past two seconds. More than one direction at a time was information overload. The drivers kept asking their navigators the same question over and over because they couldn't remember the answer. The wordy sign -- "45th Infantry Memorial Highway" - threw me into a mental tailspin.

That day, while navigating a van, I made an attempt at intelligent conversation with my driver, Guy. "What if there were two towns next to one another and they were in a different time zone? If they were in the middle of nowhere, I suppose one town could decide to stay in the same time zone as their neighbor even if the rest of the state was different."

Guy: "I think they would deal with it would say a.m. or p.m. like if they had an appointment or something."

We were not having the same conversation.

Incident: We overlapped with one of the German solo riders today before finally passing him. This presented some confusion as Dave (Frick) thought his partner, Larry (Frack), was the German rider and was applauding as he approached. Nice gesture.

Larry: "It's me! Your partner!"

Oops. Dave threw his bike back in the van, jumped in, the van drove up ahead another few miles and they attempted the rider exchange once again.

Meanwhile, Heather was desperately conniving a way to get a shower. She was the only one who missed both shower stops. She said she was getting greasy. Now I know why she kept sliding out of her seat. We finally found a truck stop with free showers. Such a deal!

To give you an idea of a true-to-life shift change, here is one that took place at about 3:30 am

somewhere in Oklahoma:

I was driving the RV and I missed the scheduled gas station stop because it was dark and all the lights were out. Have you ever tried to make a U-turn in an RV on a narrow country road? It's very exciting. Trust me.

We returned to the gas station and parked. All around us were homes and we concluded that we were in a town with real people in it. We guestimated the time of arrival of the van with the non-biking rider in it to be about ten minutes. We guestimated because we couldn't call them on a cell phone or the CB. The CB had a one-two mile range and the cell phones weren't working. Once the van arrived, the other van pacing the bike rider would not be far behind, maybe 20 minutes on average. Everyone in the RV was running around preparing for the next shift. Some crew would remain in the RV to sleep. On shift changes, some crew always slept through the racket while others felt they had to stay awake to socialize. Of course, they paid for this folly later when they could no longer stay awake during their driving shift.

I staggered out of the RV driver's seat looking for a place to lay my weary bones. I had just come off a 12 hour shift and had to get rid of some heavy-duty luggage under my eyes.

Heather told me that the kitchen table cum third bed was the best place in the RV to sleep. It seemed to me to be the worst place to sleep. There's no accounting for opinion. Not that the location of the bed mattered. By this time, we were able to sleep standing up.

"Better get your food ready," yelled someone.

Herb started making food to take on his van shift.

Heather: "You don't have time for food. They'll be here in 25 minutes. Better count on 15."

Herb insistently kept on preparing his food: "You got to eat."

The bustling went on. The RV has the tiniest kitchen known to man (and woman) and also happened to be located right in the middle of the RV. Six or more people continued struggling around, over and through it kicking floor stuff out of the way and stepping on the rest.

The two riders who were to go on the next shift were making a show of waking up. They looked terrific like the rest of us who had also been sleeping in our clothes. The riders began packing, dressing, and doing whatever they needed to do to prepare for their shift. Heather scolded the riders for not eating right. Was there a nutrition plan? Seems to me there had been. Once. That went out the window around Day 2. Everyone was busy and ate the food that was the quickest to prepare which meant the meat / cheese and peanut butter and jelly sandwiches were the first to go. We only resorted to cooking when we had to. The riders also had to be sure to drink enough fluids which I presume accounted for all that gurgling noise I kept hearing in my sleep. If they didn't remember, the crew had to remind them. If the crew didn't remember …. Welll….

The first van finally arrived. Larry (biker) emerged looking like a homeless person, and so did the crew for that matter. The new crew and rider took over. The new rider had to be on his bike for the rider exchange when the current rider arrived.

Larry: "Dave will be here in about 25 minutes. I'm going to bed." He found a vacant spot in the RV next to whomever and was snoring in less than two seconds. The incoming crew annoyingly started rattling plastic bags and cooking in our showcase kitchen, then they scarfed down their gourmet concoctions. The crockery of choice was paper cups. (Martha Stewart wasn't there.) All the rules of healthy living were flagrantly violated. (Dean Ornish wasn't there either.) We routinely ate a jumbo meal right before bedtime. (Jumbo the Elephant with cardiac occlusion would soon be there.)

Sometimes last minute changes in the driving or navigating schedule became necessary because crew members did not always cooperate and sleep during their sleep shift which meant they couldn't drive during their driving shift. This caused constant challenges for our crew chief and anxiety for the rest of us.

Ken: "Where's Marta? Can you drive for Shawn? He's tired. Who went in the van?"

Is this scientific or what?

Biker Dave finally arrived followed by his van. He did his bike exchange thingy with the new rider who took off with his van and crew behind him. The second van kept the same driver and navigator for the next four hour shift. The new rider put his bike and luggage in that van and in about ten minutes, they took off. They had to drive about ten miles up the road to get ahead of the current biker for the next rider exchange.

Adam, hair messed up, twelve-o'clock shadow and looking like a terrorist was standing outside the RV cheering off the new rider.

Lois: "Adam, shut up. There are houses everywhere. It's four o'clock in the morning."

Dave threw his luggage into the RV. Since 4 am is not necessarily the best time or temperature for a marine shower, the riders more often than not went to bed smelly. Today was no exception. ("Dave, wrap yourself up real good in that sleeping bag."). Suddenly we heard a loud clamor from the cows and dogs outside. Dave had gone outside the RV to change his clothes and moon the livestock.

We took another fifteen minutes to square ourselves away in our luxury townhouse on wheels, then the next driver took over and we buzzed up the road apiece another 40 or so miles to wait for the vans to arrive and to decide what to do next. = = = = =

More typical conversation:
Larry to Thuy. "That's a nice shirt." He stares at her chest. "What's that?"
It's a greasy food blob. Nice.

New shift conversation:
Thuy. "Good morning, where are we?"
Lois: "Good morning, I don't know."

Scientific talk at a rider exchange.
Lois: oh no, my [camera] battery is dead
Thuy: What kind do you need?
Lois: A teeny one.

Ken's wardrobe is deteriorating. He is wearing running shorts, a T-shirt, has major stubble, is barefoot and wearing a serape (a blanket with a hole cut in the middle). He gets the nickname JC. We await miracles. None forthcoming.

We are near Tulsa and the humidity couldn't be worse. Dave asks me, upon my awakening from my sleep shift if my hair is naturally curly. Just because my 'do' looks like Don King's? Good guess.

As the days progress, crewing takes some new twists. New tasks arise, old tasks escalate geometrically. Laundry piles up; fewer things are being put away; water and food need replenishing and our mental abilities slip further. Simple subtraction is no longer simple. We used to be able to mentally subtract two single digit numbers in our head. Now it takes a committee. (Kinda like the U.S. Congress.) No one in the vans remembers anymore if the other van or the RV has passed and furthermore, no one cares.

CB vocabulary becomes even less formal than before ("Shut up, tan van.").

The Blue van and Tan van were exchanging rider / pacing duties. The Blue van had just finished pacing and the Tan van was now taking over.

Blue van to Tan van now following the rider: "Duh, you need your flashing lights on."

The Tan van turns on their flashing lights.

As the Blue van and rider zip on ahead to the next exchange point, they pass the Tan van who notices that the Blue van forgot to turn off their blinkers.

TAN VAN: "And who's got their blinker on? Duh."

BLUE VAN: "Cancel last sarcastic remark."

Not too infrequently our CB picks up truckers talking to one another. One of our crew refers to a trucker as a toothless redneck.

Larry: "Do you want to get us killed?"

Riders start taking off without their water bottles or sunglasses and need to have them handed off by the navigator. We're kinda tired.

DAY 6 - Starts at noon. Sunday, June 23

| | | |
| --- | --- | --- |
| Time Station | Distance between stations | Total Distance completed |
| 36 Stuart, OK | 79.7 | 2168.6 around midnight |
| 37 Yanush, OK | 56.5 | 2225.1 |
| 38 Mena, AR | 67.7 | 2292.8 |
| 39 Glenwood, AR | 49.2 | 2342.0 |
| 40 Arkadelphia, AR | 33.5 | 2375.5 |
| 41 Fordyce, AR | 49.3 | 2424.8 around noon |
| 42 Monticello, AR | 48.6 | 2473.4 |
| 43 Parkgate, AR | 53.0 | 2526.4 |


The Tan van acquired a spike in the right front tire. Herb and Heather first noticed it on their van shift. When Adam and Shawn took over, they had to get air in the tire. They also prayed that it wouldn't go flat. The Blue and Tan vans went into a new choreographic routine with the Blue van pacing the Tan van's rider so the Tan van could scout out a garage to remove the spike and plug the tire. Fortunately it was daylight. Unfortunately, it was Sunday and everything was closed.

One gas station we passed opened at one (we got there at 10:50 a.m.) but we had no assurance they would be able to fix the tire so the van didn't wait and the two vans reverted to the routine pattern. Handling the mental work for this kind of situation while the race was going on taxed our already strained capabilities.

Larry, Thuy & Lois, in a van, discussed varied race strategies that could elevate our standing. We decided that one edge the Swiss and Brits had on our team was their age. The second was the fact that they had been training far more extensively than TEAM SURFER DUDES. The third could have been their willingness to let go on the downhills.

Larry: "The Swiss probably think they're skiing. We're interested in safety first."

Larry also mentioned that serious teams would be recruited from available talent, not based on friendship. Like ours.
The ambiance of the RV was in a serious state of decline. Larry (on ending a shift and entering the RV): "Glad to be back at the old shack and I do mean shack."

We saw constant reminders of the part of the country we were passing through:
A sign: Welcome Steer Ropers.
A marquis in front of the First Freewill Baptist Church in McAlester, Oklahoma: 'Jesus is coming and boy is he mad.' Highway signs: Carl Albert Parkway; Indian Nation Turnpike.
And lots of open space.

Saddle sores were kicking in for Jeff. (pardon the pun.)

New level of CB talk from Adam who was by now delirious: "Love you guys."

Thuy & Lois had two consecutive van shifts, then a third in the RV. Ten minutes later, neither of these college graduates could remember who had just driven.

Thuy acquired another reputation besides Stewardess of the SS Cruisamerica. She became known as Queen of the Junk Food. Her favorites were gummy worm, gummy bears, caramel toffee popcorn, cheese puffs, animal cookies, tortilla chips, gum, fried chicken, Reeses pieces, cookie ice cream bar, to name just a few. Collectively, they have the food value of a volley ball and the same molecular structure with a few more calories.

Rider exchanges are getting weirder. On the midnight to 4 am shift, John whizzed by the RV ready for the exchange but Larry wasn't quite ready. Everyone in the RV was so busy getting themselves ready, we forgot to wake Larry until the last minute. To compound the problem, both vans (the one with the rider in it and the one pacing the other rider) arrived very close together. So, John, who was expecting to come off his shift had to keep going. The van crew scurried around to get out on the road and we shuttled Larry quite a distance ahead because John got a lot of downhill (darn.) The other van had to drive off and leave Larry's partner, Dave, at the RV to pick up John who was now in the middle of nowhere by himself and bring him back to the RV, then pick up Dave and get ahead of Larry for the next rider exchange. Are you following all this?

The fire drill wasn't over yet. At the second rider switch, we drove on ahead to prepare to call in the time check at a market which was the official time station only at 1 am, it was dark and we drove right past it. We scrambled around, figured out where we were and returned. About three minutes later, Dave rode past, Shawn made the call, then we tore off to try to get ahead of Dave for the next rider exchange. This was not easy as we were driving through a town that had such conventional things as traffic lights, stop signs, double yellow lines and lots of twists and turns in the road. But we made it.

When we arrived at the RV at the end of the four-hour shift, I (driver) trying to make conversation with Larry (rider) said: "I hope you had fun." (referring to his ride).

Larry: "I did. The scariest part was the driving."

Lois: "Just call me Lois Andretti."

The mosquito and dog population increased as we glided through Arkansas.

Jeff almost fell off his bike on his shift. While riding over a bridge, he caught his tire in the indentation between two cement slabs. He said that it definitely jolted him awake.

There are supposed to be shooting stars aplenty away from city lights. Instead, we had the butt of a bicycle rider and the white line of a road in our sights.

Shawn: "If I was following four girls on bikes with nice legs and butts it might not be such a bad gig." Throughout the deep south, a place so foreign you needed a visa, everyone had a heavy accent. Apparently few northerners relocate here.

Scooba, Mississippi is a place I will not soon forget. We arrived at the time station (a convenience store at a major crossroads) on my sleep shift and through my personal fog, I became aware of the presence of porcelain which I preferred to bushes. I staggered out of the rack with my toothbrush into the convenience store restroom. Finished with my ablutions, I exited the store and stared dumb-founded in every direction at the absence of vehicles in the parking lot. All I could see was a big rig. ALL THE OTHER VEHICLES WERE GONE. THEY LEFT ME BEHIND. I would have started bawling if I thought it would have helped but I quickly abandoned that notion in favor of Plan B. Panic.

Me, to 3 clerks in a whisper/hiss: "I can't believe it. My friends drove off and left me. I don't even know where I am. Where am I?"

"Scooba, Mississippi."

"How late are you open?" (This is very important because late at night, you want a place to hang out even if it's between the chips and the chocolate bars.)

"We're open 24 hours."

"I can't believe they left me. (Repeat four or five times for authenticity.) I have no money, no ID, I don't know which direction they're headed, I don't know where I came from. All I have is a toothbrush."

By now, the clerks were starting to back away.

Lois, getting closer. "I've got to use your phone. I'll pay you back. I'll reverse the charges. I swear. " I was moving behind the counter now and one clerk started making the sign of the cross. Another clerk pointed to a pay phone outside, probably anxious to lock the door behind me and dial 9-1-1.

As I emerged from the convenience store, the RV pulled up. They were hidden behind the big rig. I scolded them. Herb scolded me back. "You don't think we'd leave without you, do you?"

Wellllll.

DAY 7 starting at noon, Monday, June 24.
(TEAM SAN DIEGO arrives at ten a.m. on Tuesday, June 25)

| | | |
| --- | --- | --- |
| Time Station | Distance between stations | Total Distance completed |
| 44 Belzoni, MS | 54.1 | 2580.5 |
| 45 Kosciusko, MS | 74.0 | 2654.6 around midnight |
| 46 Louisville, MS | 32.1 | 2686.7 |
| 47 Scooba, MS | 49.8 | 2736.5 |
| 48 York, AL | 30.5 | 2767.0 |
| 49 Sweetwater, AL | 48.8 | 2815.8 |
| 50 Camden, AL | 34.9 | 2850.7 |
| 51 Uriahl, AL | 58.7 | 2909.4 |
| 52 Molino, FL | 44.0 | 2953.4 |
| 53 Pensacola, FL | 29.0 | 2982.4 |
| 54 Pensacola Beach, FL | 9.5 | 2991.9 10 a.m. |


We were about 300 miles and less than 24 hours from Pensacola. The riders conferred and decided to go into a four-man rotation - 2 riders and 1 crew driver per van - the hell with sleep. The bikers would rotate every 4th ride and power nap in between thus throwing off the 'normal' rotation schedule whatever that was. They were wired.

Crew in the RV were Lois, Thuy, Herb, Marta, Adam, Guy and Shawn. Chef Nguyen prepared food for the riders to hurl into the vans when our paths crossed. The vans were on a tight schedule and had to stay close together. No more lolly-gagging for ten minutes.

Excitement increased as we approached Pensacola and no one was able to sleep. One hundred miles to go. Seventy five. Fifty. Chaos in the RV. The crew was screaming at each other to make sure the time check was made, food was ready to toss in the vans as they flew by, pick up more water somewhere and stop to take pictures of the riders. We also stopped for champagne with which to spritz the riders when they crossed the finish line.

I had 15 more miles on my RV driving shift but I fell asleep at the wheel waiting in a MacDonald's parking lot while Herb and Guy picked up breakfast. Marta took over the wheel and Guy navigated. We were so close to Pensacola, we could smell it. We could feel it, too. It was drizzling. Thuy was laying across Guy's lap and hanging out the RV window taking pictures of the riders on one of Pensacola's numerous causeways and also screaming at her battery for not working properly.

On the causeway, there were two lanes of traffic but all the cars were piled up in the left lane as the motorists saw blinking lights in the right lane ahead and correctly assumed that there was a slow-down ahead that they didn't want to get stuck behind. We were all shrieking different driving directions at Marta. With her nerves of steel, she only went through one red light and avoided hitting many trees.

The four riders were getting dramatic and now riding together except for John who made a wrong turn somewhere. He reappeared and got back in the conga line.

We saw a sign and freaked out: Welcome to Pensacola Beach. Kodak moment, Kodak moment!

Marta, still driving Our Lady of Perpetual Motion, made a turn as someone with bad timing opened the refrigerator. A bottle of champagne flew out. No casualties. "Let's see, what's for breakfast? A cooked potato, a hard boiled egg, peanut butter and jelly on white bread." Difficult choice.

The RV pulled ahead of the riders and we arrived in Pensacola Beach at the finish line with a feeling of unrestrained joy. One van arrived right behind us with its orange flag shredded to bits, looking like it had been through the Civil War.

We parked and calmly tore over to the pavilion to wait for the riders who were about ten minutes back. The riders arrived to fanfare provided by about a few dozen people most of whom were their crew. (RAAM is strange. It's the only bike race I know that is quite well known but has so few participants.) TEAM SAN DIEGO finished the 2992 miles in six days, twenty hours and three minutes. That's 164 hours of straight riding. Each biker rode about 41 hours and 750 miles at an overall average speed of 18.2 miles per hour.

The group was awarded flowers, plaques, other memorabilia and a jumbo check for $1,000. Bikers obviously don't do RAAM for the prize money. The $1,000 barely covered the peanut butter and jelly. The crew jumped into the Gulf of Mexico with our clothes on (another laundry opportunity not missed) and at the same time to enjoy the gorgeous waves and warm water.

We lavished two days of rest and relaxation. That night we all went to a glorious dinner where we got to sit in a room that wasn't moving and eat on real china. We reminisced and shared scandalous experiences unknown to each other. Heather said it would be hard to get used to being home. She might just wake up in the middle of the night, jump in her car and ride around the block to look for a place to squat.

The next evening we attended the official RAAM banquet on the sand beneath a canvas tent top. Some of the contenders were still coming in. A few finished the race right in the middle of the banquet.

The troops were officially demobilized in Pensacola Beach and early Thursday morning, June 27, eleven of us drove to New Orleans in one van and the RV where we dropped them off. We each stayed from one to three days in New Orleans and flew home from there. Larry and Dave drove the other van back to San Diego.

There were many lessons learned on RAAM but one of the major ones was that quality of life is in the eye of the beholder. This was definitely a quality experience.

RAAM 2002 RACE RESULTS

Team RAF reached Pensacola Beach, Mon June 24, in 6 days, 0 hr, 45mins

Team Swiss Academic SkiClub arrived, Mon June24, in 6 days, 10 hrs, 7mins

Team San Diego arrived, Tues. June 25, in 6 days, 20 hrs, 3 mins

Wolfgang Fasching (solo rider) arrived, Tues June 25, in 9 days, 3 hrs, 38 mins

Team No Limits arrived, Tues. June 25, in 7 days, 6 hrs, 44 mins

Rob Kish (solo rider) arrived Wed. June 26, 9 days, 17 hrs, 35 mins

Team ZISVAW (women's team) arrived, Wed June 26, 7 days, 14 hrs, 55 mins

Allen Larsen (solo rider) arrived Wed. June 26, 10 days, 1 hr, 5 mins

Stefan Lau (solo rider) arrived Wed. June 26, 10 days, 4 hrs, 14 mins

Team Clif Bar arrived Wed. June 26, 8 days, 0 hrs, 26 mins

Team Millennium/IRSA arrived, Wed June 26, 8 days, 3 hrs, 59 mins

Team Twin PAC arrived Wed., June 26, 8 days, 4 hrs, 35 mins

Fredi Virag (solo) has reach Pensacola Beach, Thurs. June 27, 10 days, 18 hrs, 42 mins

Franz Venier (solo) arrived Thurs. June 27, 10 days, 20 hrs, 19 mins

Sam Beal (solo) arrived Thurs. June 27, 11days, 2 hrs, 55 mins

Team Leader Bike USA arrived Thurs. June 27, 9 days, 2 hrs, 56 mins

Guus Moonen (solo) arrived Thurs. June 27, 11days, 10 hrs, 21mins

George Thomas & Terri Gooch arrived Fri June 28, 11 days, 19 hrs, 21mins

Michael Lau (solo) arrived Fri June 28, 11 days, 20 hrs, 33 mins


My vote for the hardest thing about crewing for RAAM, if you haven't already guessed, is the sleep deprivation.