Ventura Adventure 2002

Knickerbiker
Ventura Adventure
December 28-30, 2003
On December 28, 2003, nine Knickerbikers decided to enjoy three days of cycling in Santa Barbara and Ventura Counties. Most of the participants, Kathy and Scott Curriden, Susan Noblin, Merle Vogel, and Ken King, took the train to Santa Barbara, but Eric and Sharon Goodis and Sandra and Larry Zinn chose to drive to Ventura and cycle north to meet the other riders.
The Amtrak trip was pleasant, with good bicycle storage at the end of each coach. It's so much fun to see the coastline and the various train stations whiz by while relaxing in the comfortable reclining seats. We boarded in Solana Beach before sunrise Brrrr! By the time we arrived in Santa Barbara (a little before noon), the bright winter sun had warmed things up considerably. Ken had heard that the local Channel Islands Bicycle Club frequently chose the East Beach Grill for coffee and food, so the group rode down to the beach to find it.
Eric and Sharon met us there for lunch, and then we all headed south in sunny but cold weather with a tailwind. The 30-mile bicycle route is well-marked with some fairly new signs and only one short hill; most of it is alongside the ocean, with spectacular views of the Channel Islands. Since Scott had gone to school at UCSB, he could tell us the names of the islands we were seeing. Larry and Sandra, riding north from Ventura, met up with us along the way.
Along the route near Ventura there was a tempting road branching off to the right (closer to the ocean) that we took, only to find out, after about a mile, that it was a dead-end. "There's the bike path-up there!" someone noted, pointing to a well-paved bike path about 40 feet away, but 20 feet above us. We watched as a cyclist went by, noting that the chain-link fence we could see was not between us and the path. So we scrambled up the rocky cliff face, dusted ourselves off, and continued on in to Ventura, arriving at about 3:45.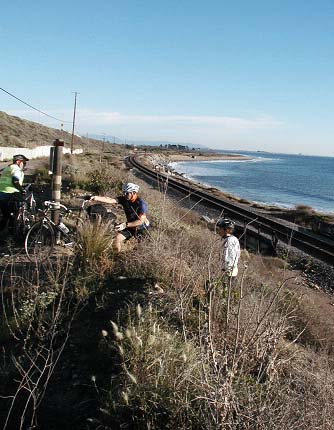 The Clocktower Inn was a fine place to spend the next two nights. It was immediately adjacent to the park that the Channel Island Bicycle Club uses as a starting point for their rides, so our route slips were good! It started out as a California-Spanish style firehouse and clock tower, but has been transformed into a hotel, complete with a large fireplace, around which we congregated for happy hour. Dinner was a block away at a place the group selected from the many options. The conversation was mostly about the weather and the continuous warnings from the news media that the mother of all rainstorms was headed our way.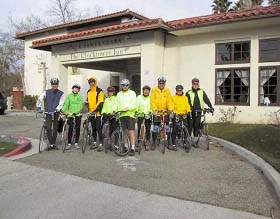 The next morning was dry, but high clouds blotted out any sign up blue up above. And it was COLD (48 degrees) but we were all prepared for it. So at 9:00 the next morning (are we creatures of habit?), we rode toward Ojai on a "rails-to-trails" bicycle path. The whole 17 miles to Ojai was on the path, which was punctuated with statuary every kilometer or so. The "Ventura River Class I trail" is reputed to have cost almost $1 million per mile, and we sure enjoyed it!
After a brunch in Ojai, we decided that since the major storm hadn't yet arrived, we would continue on our original plan to ride a 50-mile loop up the Dennison Grade, down to Santa Paula, and back to Ventura. The climb of perhaps 400 feet was easier than Torrey Pines, our yardstick. Just a hundred yards short of what was reputed to be the summit, we stopped for the famous Ojai Valley view that was featured as Shangri-La in Lost Horizon, filmed in 1937 and starring Ronald Coleman.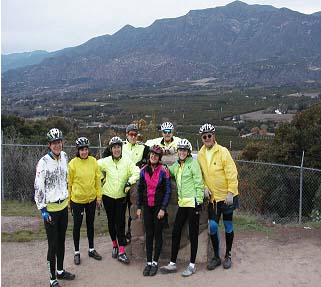 After reaching what we thought was the summit, we cycled for a few more miles, gradually gaining even more elevation. Finally, we reached the summit (identified by a store with a large "SUMMIT" sign), and enjoyed a 7-mile downhill with smooth shoulders, nice curves, and no need for brakes. Even after we reached Santa Paula, our route continued to drop gradually. We stayed off of busy streets and took on some gentle rollers on a nice westerly route from Santa Paula to Ventura, arriving back at the hotel well before dark. After happy hour at the hotel and dinner at a near-by brew-pub, most of us went to see a movie.
Tuesday morning the weather was a little warmer-and dry. Half of us (Merle, Susan, Eric and Ken) decided to head for Santa Barbara at 9:00, and noted right away that the sun was (mostly) shining again, and we had a strong tailwind! We flew up the coast to Santa Barbara, wondering how we could be so lucky and have tailwinds in both directions.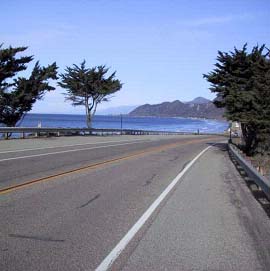 Sharon had driven up to Santa Barbara and met us for lunch at the same place we ate two days ago. Right after lunch we met 18 cyclists who were just starting out on a tour from Santa Barbara to San Diego.
After we cruised State Street in Santa Barbara, The Goodises headed for home and Susan, Merle, and Ken boarded the train at 2:00 for the ride back to Solana Beach. While we only rode 110 miles, it was fun to see new scenery and, for a few days, experience the feeling of panniers and car-free independence.