Knickerbiker "Tucson Turnabout" Tucson, Arizona -November 2009


In November 2009, 40 (yes, 40!) Knickerbikers descended on Tucson for a week of cycling. The participants were Merle and Susan Vogel, Gail and Forrest Roberts, Doug Paulson, Marty Hambright, Ron Manherz, Lois Horowitz, Gail Markiewicz, Bonnie Brennan, Cindy MacLeish, Joi Brewer, Barbara Dorris, Kathy and Scott Curriden, Joe Estey, Hersch Kagan, Pam and Dwight Filley, Jerry Fitzsimmons, Steve Gebler, Don Gold, David Johnson, Karen Rothman-Westrich, Bonnie Kaler and Bill Franks, Dick and Joan Wayman, Gayle and Mike Ziaskas, Martha Way, Jeff Gianformaggio, Walter Schmitt, Susan and Richard Andrews, and Sheryl and Ken King (me). I initially intended to have 16 riders, but I didn't want to disappoint any of the riders who wanted to go! We were able to accommodate such a large number because it was a "loop" ride instead of a "point-to-point" ride. Therefore we had no need for a sag wagon. Fortunately the hotel had a "conference room" that barely fit us all for the farewell dinner!
The reason for this location at this time of year was due mostly to "El Tour de Tucson," a huge annual cycling event. Some folks stayed an extra day to participate in that.
So did we all ride the same route? No way! Steve stepped up and printed out over a dozen routes; the printed route slips were posted in pockets outside his room. For each of the four riding days the crowd broke up into about 3 groups each day, and it all worked! It helped that the weather was close to ideal.
One of the highlights was the Arizona-Sonora Desert Museum, a world-renowned zoo, natural history museum and botanical garden, all in one place. Another popular destination was actually a DRIVE to Kitt Peak National Observatory (KPNO) to attend the nightime program. KPNO supports the most diverse collection of astronomical observatories (19 optical and two radio telescopes) on earth for nighttime optical and infrared astronomy and daytime study of the sun.
Most everyone visited Saguaro National Park, which contains many of the enormous cacti, and is close by. Sabino Canyon attracted many hikers, and air/space buffs enjoyed the Pima Air and Space Museum. One of my favorites was Mission San Xavier Del Bac, the beautiful "White Dove of the Desert." It rises, brilliantly white from the desert floor of dusty green mesquite and sage. The imposing dome and lofty towers, the rounded parapets and graceful spires etched against the vivid blue complete a skyline with a graceful enchantment.
In summary, I have to admit that I was happily surprised that we could pull of a tour of 40 people. Everyone was very understanding when the happy hour accomodations didn't exactly come off as planned, and (thanks to Steve) we had good route slips and the good sized groups.
Thus the trip concluded: no injuries, some tanned faces, arms and legs, and stronger leg muscles! Thanks to all for sharing your vacation with me.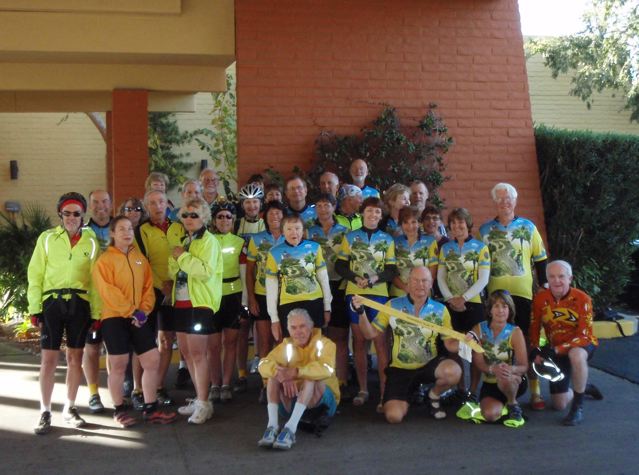 Ken King