Sonoma Country Tour 2011

In September 2011, 17 Knickerbikers decided to embark on a tour of the beautiful wine country that lies a little north of San Francisco. The participants were Merle and Susan Vogel, Gail and Forrest Roberts, Marty Hambright, Ron Manherz, Gail Markiewicz, Scott and Kathy Curriden, Martin Wascher, Chris Polta, Julie and Keith Topliffe, Christine Kiffmann, Larry Cahn, Dee Griffin and me (Ken King) .
We gathered in Santa Rosa on September 19th, eager to get on the road. Ken had given wine glasses with the Thomas Stevens high-wheeler logo and "Knickerbikers Sonoma County Tour 2011" engraved on them.
Our hotel was across the street from Santa Rosa's historic Railroad Square, which sports an old train station that now houses a museum. In the park next door is a statue of Charlie Brown. In fact, "Peanuts" characters are all over town, since Santa Rosa is proud to be the home town of cartoonist Charles Schultz. There are many restaurants within a short walk (a major requirement for us!), but most of us tried the Thai restaurant. We scouted out breakfast places (pastry and coffee or an omelet?) for tomorrow.
On Tuesday we were joined by Russ Dieter, a local rider and friend of the Robertses who helped us with the routes. After breakfasts ranging from heavy to non-existent, all 17 of us plus Russ left at the usual Knickerbiker time (9:00 meet, 9:15 roll). Merle had a cool new camera mount so we didn't have to recruit someone to take pictures with 17 different cameras. Lots of Knickerbiker jerseys in the picture!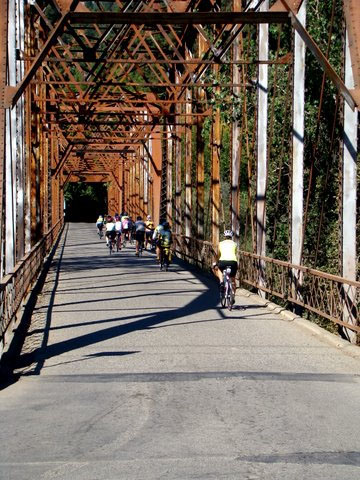 The bike path that we used at the beginning of the ride was adjacent to our hotel's parking lot. We rode 33 miles on bike paths and quiet country roads with gently rolling hills to the charming town of Windsor and back, seeing vineyards, wineries, corn fields, cows, horses, burros, goats and even a lame fox, if everyone is to be believed. The coffee bistro in Windsor had some good snacks (either a late breakfast or an early lunch, since it was 11:00). We got back 1t 12:45, and, knowing the water in the hotel was to be turned off at 1:00 rushed to take quick showers. As far as I know everyone made it. If not, we'll know soon enough. We will never know what issue caused the water outage.
Photo: Gail M.
Wednesday's ride (56 degree temps at the start) was again led by Russ, who flawlessly led us onto the bike path adjacent to the hotel parking lot and north and west for about 22 miles to Forestville for an al fresco lunch. We traveled on quiet country roads and bike paths through vineyards and pastures. Part of the ride was through giant redwood trees, offering cool shade. After lunch we completed the 37-mile ride, about 90% of which was on bike trails, including a rails-to-trails route. We cruised through huge oak trees that shaded our path and stopped at a great fruit stand (most of us, anyway). Once again we saw a good variety of plant and animal life, mostly alive. The temperature was about 95 when we finished, but because of the self-generated breezes, low humidity, and lots of shade, no one wilted. A special thanks to Russ; we never had to look at a route slip, so who knows how we will fare tomorrow?
Late in the afternoon, we picked up some picnic food at a local market and enjoyed wine, our food, a sunset, and music at the Paradise Ridge Winery, at the suggestion of one of Susan sisters, who lives in town. What a great way to end the day! After three nights in Santa Rosa, on Thursday we drove to the little out-of-the-way rustic village of Glen Ellen where a choice of several loops were available. After being kicked out of the parking lot of the Glen Ellen Market (we later had lunch there, but the store manager was concerned that if we parked there for two or three hours that some of his other customers wouldn't be able to park), we parked on nearby streets and rode 1.5 miles to Jack London State Historic Park. It was uphill all the way, but the percent grade never exceeded 25%. Actually, the max was probably about 15%.
This delightful park, which is on the closure list of parks, but is currently open 5 days each week, contains a rock-walled house filled with memorabilia. What an adventurer he was! A short walk away are the remains of a 26-room mansion he built. It burned down a month before he and his wife were to move in. He intended to rebuild it, but died shortly after it burned.
The group then broke into three sections: those that stayed at the Jack London house, those that took a short loop, and two stalwart riders (Larry and Keith) who did a longer and steeper route. How steep? Stories vary.
Those that stayed and hiked at Jack London Park coasted the mile and a half back down the hill, and by then it was lunchtime. After a tasty sandwich on the picnic benches outside of the market (we forgave the market guy--good food), no one wanted to ride in the 90-degree weather, so we drove up 101 to Healdsburg and checked in to the hotel. Hey! Wine tasting from 3-5! We're on it! We need it after three miles of riding.
Dee reminded me to tell you about our snake! Gail M had lined several of us up on a log (Martin, Chris, Merle, Susan, Dee and me). Martin, on the end of the log, sat down and rose up quickly. We thought he had spotted some Poison Oak, which was rife, but it was a very dark and very young rattler! We decided to move our picture venue to another spot.
Friday's ride was advertised by the Santa Clara Cycle Club as "the essential, definitive 'Wine Country' ride." Part of the 30-mile route "is the sort of road you would create, were you to sit down and try to design the perfect back road cycling experience." With descriptions like that, we were bound to have a letdown, right? Actually, it completely lived up to expectations. On Dry Creek road we had 8 cars pass us on the 9 mile stretch. We made our way up to Geyserville and the Alexander Valley, one of the best-known areas for terrific wines. We saved our tasting until after the ride. For most of the ride the temps were ok, but by the time we finished at 1:00, it was 89 degrees. The Jimtown Store also met high expectations. Since it was only 11:00 when we arrived, riders chose between snacks and full lunches. In summary, we saw more vineyards than we have on any trip, and more touring cyclists (commercial bike companies LOVE this area!). Photo: Gail M.
Once again we were treated to wine tasting preceding our 5:00 happy hour where we shared experiences. Not everyone found every turn listed on the route sheets, even though the mileages turned out to be very accurate. Full disclosure: Ken, in leading us out of town, made two wrong turns, leading the group around town for an extra two miles. There were no complaints, though, and no one volunteered to take over the navigation.
At the start (8:30) of Saturday's ride, the temps were about 52 degrees and it was somewhat overcast; this was a relief since the previous days have been warm. The 20-mile route took us south along the west side of the Russian River for 10 miles and then back north along the east side. We stopped at the Hop Kiln Winery, which sported the unique architectural style of a hop kiln, with three towers. The sun eventually showed itself, and temps warmed up to create delightful cycling weather. On our return at 11:00 (!), most of us opted for lunch at a French Bakery in Healdsburg (Costeaux), which was recommended by Kathy. Did I mention that Scott and Kathy celebrated a wedding anniversary with all of us last night at a terrific Italian place recommended by Christine, who handled all the reservations? Thanks, Christine!
Since it was still early in the day, people chose alternative ways to spend their vacation; some of us went to the rather small Art Fair in the Healdsburg Town Square. That didn't take much time, so Gail and I recruited Dee, Kathy and Scott to ride with us up Chiquita Road and back on Dry Creek Road. Chiquita was the unmarked road that many riders missed yesterday. Ron spotted us near the hotel, and turned around to join us on this 7 mile loop.
Following that, Dee, Gail and I visited the local museum (thanks, Dee!). The special exhibit that drew us covered the weird history of Healdsburg (lynchings, murders, etc. you get the idea). The next day, Saturday, was the last full day of the tour, and since Julie and Keith had to leave us a day early, we said goodbye to them at Happy Hour Friday night. After that, several of us had dinner at what was billed as a seafood restaurant.
Sunday was the day for us to leave Healdsburg and drive to Ragle Ranch Regional Park for our last ride. Rain was predicted, and we woke to light mist that turned to heavy mist that turned to very light rain. We drove to Ragle Ranch park as planned, only to find it filled with 6 soccer fields of kids and soccer moms, so we followed Plan B, which was to regroup in Occidental, a tiny village on the route with a great place to eat. Eating being more attractive than riding at the time, we drove to Occidental and had coffee and amazing turnovers.
By now the rain had let up, so we drove to Bodega Bay. Along the way we saw the church in Bodega which served as the schoolhouse and yard in Hitchcock's "Birds." At this point, vacation experiences varied. Some hiked, some rode (the sun had come out and the weather was ideal). Scott, Kathy, Gail M and I had lunch at the Sandpiper, our dining destination tonight, just to check it out. The jacuzzi in the Bodega Coast Inn, our digs for tonight, was the destination for some of us.
We assembled for our last happy hour at a large room in the motel with a view of Bodega Bay, swapping stories about the varying adventures today. After our farewell dinner at the Sandpiper, a restaurant a mile down the road, we said our goodbyes and got some rest for the ride home Monday. Thus the trip concluded: no injuries, some tanned faces, arms and legs, and stronger leg muscles. I enjoyed riding with each of these cyclists; thanks for sharing your vacation with me.

More photos of the trip in two places:
a) at the www.knickerbikers.com site, click on "SCRAPBOOK" and then "Knickerbiker Photos - smugmug.
b) Also, Merle has some pictures in "SCRAPBOOK" at "Merle's KnickerPics."

Ken King