Knickerbiker Santa Maria Loops
December 26-30, 2006

In December 2006, fifteen Knickerbikers enjoyed three days of cycling around Santa Maria, California, in Santa Barbara County.
Doug Paulson, Herb Keller, Hersch Kagan, Jeff Gianformaggio, Joi Brewer, Barbara Dorris, Lois Horowitz, Sylvia Nielsen, Martha Way, Dick and Joan Wayman, Merle and Susan Vogel, and Ken King are all grateful to our leader, Fern Kissel, for putting together such a spectacular trip.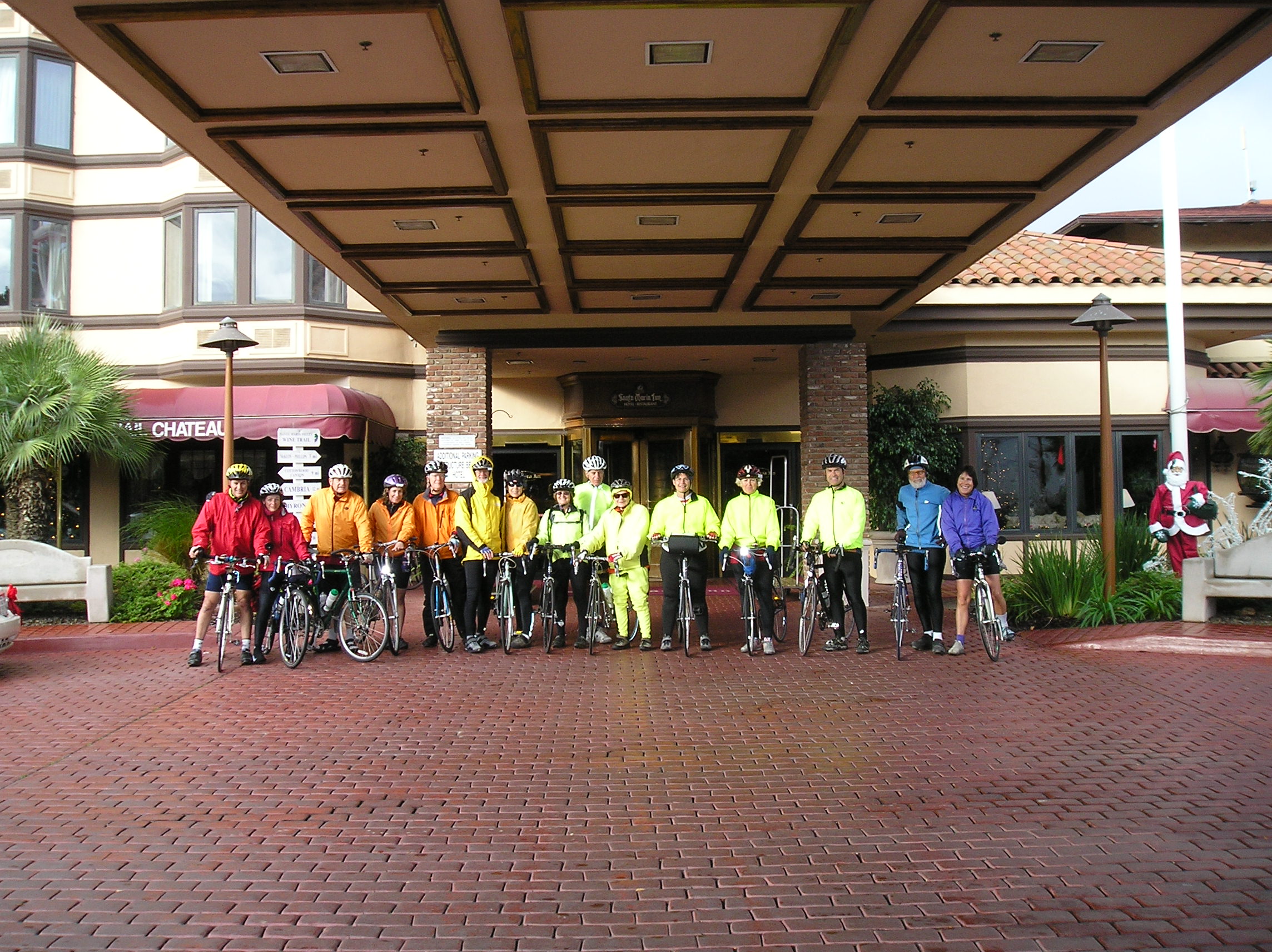 We checked into the luxurious Santa Maria Inn on Tuesday and promptly started a party with wine, beer, soft drinks, and snacks. A few people arrived early and rode on that day. After much debate about where to go for dinner, we settled on the Chinese place across the street.
While we were concerned about rainy winter weather on Wednesday, the light drizzles were short-lived and inconsequential compared to the real challenge: wind. A major storm system devastated Washington earlier, and blew into town before dawn here. (It went on to blow down trees in LA and San Diego, and bury much of the Rockies and Midwest in snow.)
We sailed along for the first 30 miles of the 55-mile day through Foxen Canyon and Aliso Canyon, stopping for lunch at the only place in Los Alamos: a Subway. It was not only windy but COLD! The first rider got the last of the soup, and a few minutes after we arrived, the power went out, so hot sandwiches were unavailable. Undaunted, we forged ahead into the teeth of the gale. How bad were the winds? One official report said "60 knot winds" and the weather channel had predicted "60-80 mph" at one time. Watching all the strawberry, broccoli, cauliflower, and brussel sprouts fields was somewhat distracting, but it was a long stretch into the wind to get back to the warmth of a hot shower and a soak in the spa. Joi did her first 50-miler (56 miles actually), and Merle pointed out that it was much harder than a typical 50-miler! Still, everyone had fun, once they looked back on it.
Thursday's weather was supposed to be a little warmer and calmer, and it was, but just barely. The "official" ride was 50 miles, but with a major (think Banner Grade) climb. About half of the people opted for a shorter (35 mile), flatter ride and went to Guadalupe and the nearby sand dunes. The rest of the group did the planned 50 mile ride to Tepusquet Road-which turned out to be a beautiful, scenic ride. Once again, it was a relief to get back to the hotel and a hot shower.
By Friday the weather had clearly improved (10-15 mph winds and highs in the 60's instead of the low 50s), so almost everyone opted to ride over to La Purisima Mission near Lompoc. This beautiful mission has been beautifully restored, and is now part of the California State Park system. There was no place to eat there, but we had three boxes of tasty strawberries to share, along with the usual touring fare (Power Bars, almonds, chocolate). The 50-mile ride included riding up and down Harris Grade road twice. We had beautiful views and two 800-foot climbs (over and back) with light traffic.
After yet another happy hour Friday evening, we enjoyed the hosted "farewell dinner" in the hotel. Dick and Joan were celebrating their 51st wedding anniversary (can that be right???) that day, so we helped ourselves to the dessert the hotel intended for them.
All expressed their sincere thanks to Fern for arranging the trip; it was fun to spend a few days with our cycling friends! "As long as we have each other, we'll never run out of things to gossip about." Oh no, that's not it. Maybe it's "Until you try to ride up a mountain, you'll have no idea how far you can walk." No, that's not it either. I have it: "The six stars in the Knickerbiker patch represent the six benefits of organized touring: health, pleasure, mobility, good fellowship, safety and knowledge." On this tour, we experienced all six!
Ken King