Knickerbiker "Tour of Enchantment" New Mexico 2008
Sept , 2008

"TOUR OF ENCHANTMENT" NEW MEXICO 2008

In September 2008, 21 Knickerbikers embarked on a "Tour of Enchantment" in New Mexico. The participants were Merle and Susan Vogel, Gail and Forrest Roberts, Larry and Sandra Zinn, Doug Paulson, Rita Cohen, Arnie Schwartz, Carol Hunt, Marty Hambright, Ron Manherz, Lois Horowitz, Gail Markiewicz, Rona Djeddah, Bonnie Brennan, Martha Way, Jeff Gianformaggio, Walter Schmitt, Scott vanHoften (a friend of Ken's who volunteered to drive the support vehicle) and Ken King (me). I initially intended to have 16 riders, but I didn't want to disappoint any of the riders who signed up! The large number resulted in a few hiccups but nothing serious.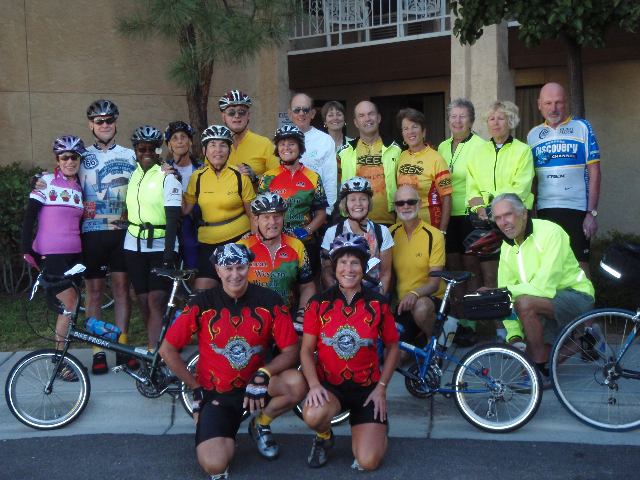 We gathered in Albuquerque (5,312 feet), eager to get on the road. I had given socks to each person that had a Kokopelli cyclist on the ankle and "New Mexico 2008" with "Knickerbikers of SD Co." and the Zia Sun God symbol in other places. Since I had to order a large number of these, they are available to anyone at cost ($5.00).
We needed to get used to the elevation on the first day, so it was a short ride mostly along a bike path bordering the Rio Grande River. Then the climbing started.
We visited many interesting towns, ranging in size from tiny to mid-sized. The range of elevation was 5,000 to 10,000, but the weather cooperated so we were never too hot or too cold.
Towns we stayed in were Albuquerque, Bernalillo, Jemez Springs, Los Alamos, Espanola, Taos, Red River (north of Taos on the "Enchanted Loop"), Angel Fire, Las Vegas (the New Mexico one!), and Santa Fe. Highlights were Bandelier National Monument (particularly the wonderful historic site in Bandelier called Tsankawi), the High Road Art Tour between Espanola and Taos, the fall colors in the 8-9 thousand-foot areas, and the beautiful art in Sante Fe. That town has over 100 galleries and the volume of art works sold is second only to New York. Most of us saw the Georgia O'Keefe museum that had recently installed an excellent exhibit.
We rode on three officially designated "National Scenic Byways": The "High Road" between Santa Fe and Taos, the "Enchanted Loop" up in the high country, and the "Turquoise Trail." It was a pleasure to see previously decaying mining towns or Mexican/Spanish villages being transformed into tourist attractions with art galleries, eating places, and shops. Fortunately they are intent on preserving the architecture.
On the last evening we had our traditional hosted dinner in an informal ribs-and-beer sort of place with large portions and an active staff. Gutter gifts were presented (articles found along the way that are given to others on the trip) as well as a book with New Mexico photography each for Gail and Scotty. I was given a nice yellow jersey with a New Mexico logo.
Thus the trip concluded: no injuries, some tanned faces, arms and legs, and stronger leg muscles! I enjoyed riding with each of these cyclists; thanks for sharing your vacation with me. And a special thanks goes to Scotty and Gail M for taking care of us along the way!

Ken King