THE BLOSSOM TRAIL RIDE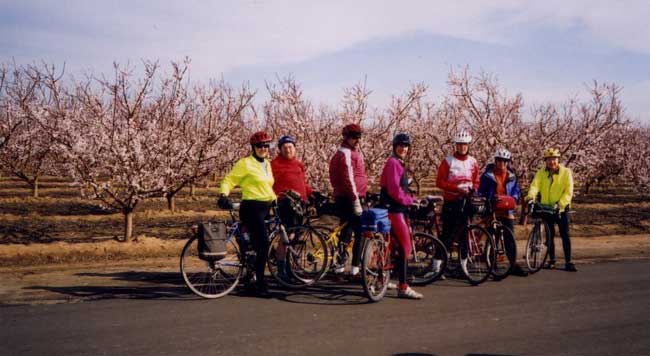 On the first weekend in March, Steve Goldstrom, Chris Polta, Jeff Gianformaggio, Jean Monfort, Joan and Dick Wayman, Mike and Marta Hurwitz, Mary Ann Hautman, Ken King, Allen Craft and Caryl Parrish joined Gayle Ziaskas Gail Markiewicz on their "Blossom Trail Ride" in California's lush San Joaquin Valley near Fresno.

The area boasts of its "Fresno County Blossom Trail," a self-guided car or bicycle tour through what could be considered the nation's "fruit basket." Peaches, plums, apricots, nectarines, apples, almonds, grapes and oranges abound, and we even saw some kiwi and persimmon trees as well. Not every tree was in bloom, but the profusion of white and pink blossoms in most of the orchards was spectacular!

We rode 35-40 miles on Friday and Saturday, winding our way through all the orchards on mostly flat roads. Friday's ride included a nice climb toward King's Canyon National Park (in the rain!).

On Saturday, we visited the town of Sanger, a city rich in history. "From its humble beginnings as a small farm town, Sanger's growth exploded in the late 1800's with the advent of its massive lumbering operation and the construction of The Kings River Flume. Running from the high elevations of the Sierra Nevada Mountain Range of California down through the rocky canyons to the rail head in Sanger, the Kings River Flume was the largest of its kind in the world extending over 62 miles by the early 1900's. Built in just over a year, this flume was a tremendous undertaking and an astounding feat of engineering."

A festival was underway in Sanger's park, so we dropped by to look at the crafts, eat some food, and listen to the high school band.

All in all, it was a delightful "getaway" weekend! Thanks, Gail and Gayle, for arranging it!