Montana 2005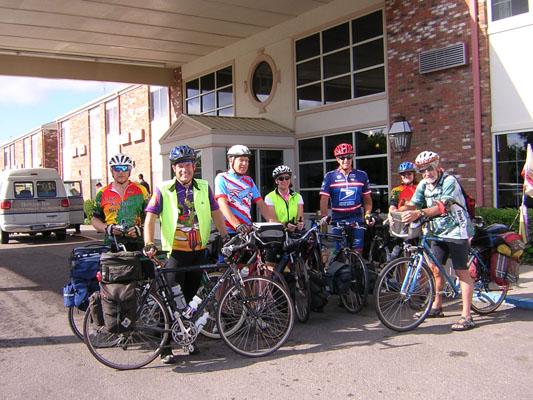 On June 26, 2005, Rita Cohen, Doug Paulson, Susan and Merle Vogel, Sylvia Nielsen, Bill Hayworth, Hersch Kagan, Phil Babcock, Jeff Gianformaggio and Fern Kissel arrived in Great Falls, Montana for a 12 day tour of what's called the "Gold West Country". Susan and Merle Vogel, traveling by motor home, arrived a few days earlier, as did Phil Babcock.
So, before I go any further, a few words are necessary about road names. There are names for the roads that the locals use. There are names for the roads that the people making the maps use. Finally, there are names for the roads on the signs. I suppose in a perfect world all three would be the same but this is not a perfect world. And that is no truer than in Montana where there are 4 signs with 4 different names for the same road and the roads on my maps were named differently than the signs on the roads!!! For the first time I truly understood Doug's dependency on his GPS (except when it wanted to lead us down overgrown, dirt roads)! But, hey, what's a tour without some adventures – as in getting lost?
We arrived in Montana just after several heavy rain storms had drenched the area. The prairies, meadows and hillsides were a luscious shade of green and covered in spectacular wild flowers. Most of us had shipped our bikes to the hotel and all had arrived fine, except for Sylvia's. Bill tried desperately to get a hold of the shop that had shipped their bikes. Unfortunately, it was a Sunday night and he wasn't able to get any information. Sylvia then had another glass of wine and I had another beer while we tried to figure out how to get a bike for Sylvia. She decided there was really nothing she could do until Monday morning. Much to everyone's relief, especially Sylvia, on Monday morning, she found her bike – someone at the hotel had put it in an office separate from all the other bikes and the weekend crew hadn't checked that particular office. So we were ready to get in the saddle and ride.
Our first day consisted of a few miner showers and some winds, following the Missouri River and going past Tower Rock, the point where Lewis & Clark entered the Missouri River. The Missouri River Canyon is spectacular! On the way, Hersch broke a gear cable and thank goodness he was in low gear when it broke because he had several towns, some grades, a few passes and 2 days to go before we reached a bike shop. Hersch is a great tourist and strong rider and never complained (at least not to me)! That night we stayed at Holter Lake Lodge at Holter Lake, which was formed by the Holter Lake Dam on the Missouri River. We had the requisite very steep 1 mile last climb and then a steep downhill to get to our lodge after our 53 mile ride. We proceeded to devour our happy hour snacks and beer while wondering how we were going to climb back out first thing in the morning.
The next day proved to be a quite a challenge. First, the tour leader, along with several other riders, did not refresh her memory by looking at the route and completely missed a turnoff – which by the way, was not marked from our side of the road. The sign was on the other side of the highway and blocked by an overpass so the only way to see it was to have turned and gone under the overpass. Since we didn't go under the overpass, we missed the sign. Susan's instinct kicked in and mentioned to me that shouldn't we be turning and I said not yet because I didn't see the highway sign for our route. At some point, Rita realized that none of us were in sight, except for Doug and Jeff and she called and told us we were going the wrong way. By that time we had ridden 5 miles out of our way, which meant another 5 to go back to the turnoff. Those 10 miles really mattered that day because not only did we have a thunderstorm, but very strong headwinds. In fact, at one point I looked at my computer and I was only going 4.5 mph DOWNHILL in my granny gear! Sylvia, Bill and Phil also missed the turnoff and ended up reaching the hotel with about the same mileage and taking a beautiful route.
That night we stayed at the Hotel Lincoln, a 2-story log structure originally used for housing miners, forestry and mill workers. Lincoln sits between the Sun River Canyon on the east & the Blackfoot Valley on the west. The proprietors of the Hotel Lincoln, Larry and Julie, welcomed us with hot coffee and an 'our home is your home' attitude. We had delicious dinners prepared for us by Larry, and Julie made each of us homemade cobblers of our choice!! The deer in Lincoln are treated as pets and come and go at meal time and I was able to hand feed some of them. The next morning, Larry & Julie came in early to make us coffee and breakfast before we left for our day of riding. I think Larry & Julie were the most gracious host and hostess I've ever had the pleasure to meet.
We were suppose to have an 82 mile day the next day, but after talking this over with Larry we decided to take a short cut over a dirt road once we found out that the road was much more scenic, there was 'only' 12 miles of 'packed down dirt' and we could easily cut off 30 miles. Well, it was a very scenic, beautiful route. The 12 miles were muddy because of all the rain and it slowed us down, but that just gave us more time to see the wildflowers, many deer, abandoned barns and log cabins and enjoy each other's company. Once the 12 miles of dirt ended we had an incredible downhill through spectacular Helmville Canyon into our next town, Drummond.
The next day we started on our 57 mile ride and headed to the Pintler Scenic Byway, which took us through the Anaconda-Pintler Wilderness. In the middle of our ride we stopped at the sapphire mining town of Philipsburg, where we spent a few hours exploring the town and buying LOTS of chocolate at the famous Sweet Palace where Doug had to drag Rita out of! All of the buildings on the main street have been restored to their original condition. We followed Flint Creek and up the grade to the shores of Georgetown Lake before heading into Anaconda. There were numerous copper mines in the area around Anaconda which created some of the world's wealthiest men. One of these men, Marcus Day, built his own smelter and Anaconda now boasts the largest volume smokestack in the country! There are outstanding examples of turn-of-the century architecture, including the ornate Washoe Theater (ranked 5th in the nation by the Smithsonian). Hersch was able to get his bike fixed at Sven's Bike Shop across from the motel.
After Anaconda we continued south 54 miles to Wisdom, in the heart of the Big Hole Valley. We rode across the Continental Divide again, through the Beaverhead National Forest located in the Pioneer Mountains and followed the Big Hole River into Wisdom riding through several different landscapes. We had a strong headwind again and it seemed to take forever to get to our hotel. When we got to the hotel we were exhausted from the strong winds and heat so we did not ride another 10 miles to the historical site of the Big Hole Battlefield where the 1877 massacre by the US Army of hundreds of the Nez Perce people, mainly women and children, occurred.
Day 8 and we headed to the town of Dillon, 66 miles away. We went through Jackson in the Big Hole River Valley where there are hot springs off the road and we went over Big Hole Pass at 7630' & then Badger Pass at 6760'. There was a marker at the place where Lewis & Clark came across the hot springs and cooked small pieces of meat in the springs. As I was riding along minding my own business and marveling at the Big Hole River, a huge badger decided to pop out of the weeds on my right side just by my front wheel. I saw him as my foot was passing by just inches from his bared teeth. I think I scared him as much as he scared me!!! He slid backwards, with his fur on end, hissing all the way, into the weeds. When we got to our hotel, there was a message for us from Phil saying that he had gone to Idaho! It seems he missed our turnoff in Jackson and just kept going until he came across a sign that said "Montana/Idaho". Rita and Doug decided to jump in the truck and go get him, and although he was tired, he was still in great spirits.
We had a layover day in Dillon and Doug took some of us out to the ghost town of Bannack, the site of Montana's first big gold strike and once Montana's territorial capital. The road between Bannack & Virginia City was the scene of more holdups, robberies and murders than almost any other comparable stagecoach route, all masterminded by the Sheriff of Bannack, Henry Plummer, who instigated over a hundred murders and the theft of money and jewelry from unfortunate stagecoach travelers. He built the jail and had rings put in the floor so that prisoners could not escape merely by punching a hole in the sod-roof. A committee of citizens formed the Vigilantes and threw Plummer into his own jail where his tenure was short - a gallows was erected in the back of the saloon and the sheriff was strung up. It was very interesting to see the old hotels and homes with the original wallpaper and linoleum still on the walls and floors.
This is the day I was waiting for – our 55 mile ride into 2 very historic towns - Nevada City & Virginia City. In 1863, 6 prospectors discovered what would become one of the most productive placer mining districts in the world and Nevada City and Virginia City were born. The two towns declined until they were ghost towns, when in 1940 a coupled named Bovey began restoring them. The entire town of Nevada City is a historical museum, with many original log buildings, a collection of old-time music boxes, player pianos and calliopes. There is a narrow rail system that links the 2 cities, with a fully restored 1910 Baldwin Steam Locomotive. Virginia City's main street has exceptional examples of commercial architecture from the later 1800's. The stores and buildings were filled with NOS (new old stock) of buttons, lace, material, shoe buckles, little boys' jackets, boxes and boxes men's collars, coffee bins with incredibly beautiful graphics, medicines, etc. Being the antique addict that I am, I thought I had gone to heaven! We stayed at the Nevada City Hotel & Cabins and we each had an old mining cabin that had been restored and had bathrooms built in. The hotel itself is a restored log cabin which use to function as a stagecoach stop. We all took the train ride into Virginia City and it was the slowest train you've ever been on. It was so slow that Jeff walked the 1 ½ miles back to Nevada City and actually beat the train!!!
The next day we rode 67 miles to Bozeman, following the beautiful Madison River. We went by more hot springs, but again, we couldn't go in. The temperature was around 95° and we had to ride up a grade that I deemed the 'never ending road" with no shade and no breeze. We were all very glad to get to our hotel.
The next day was our longest day, 79 miles to White Sulphur Springs, located in the Smith River Valley, surrounded by the Little Belt, Big Belt and Castle Mountains. We had a spectacular ride through the Bridger Range and the Gallatin National Forest and then onto the Kings Hill Scenic Byway. This route is considered the most scenic in Montana. We had dinner and breakfast with Bill Campbell, who I had met over the internet (no, it wasn't on one of 'those' sites) when I emailed the Great Falls Bicycle Club for information on the route I had mapped out. Bill told us that the people of White Sulphur Springs were very weird about people in colorful, spandex clothing so expect some looks when we went to breakfast the next morning. He was not kidding. Breakfast the next morning at Dorie's Café was one of those experiences you never forget. From the waitress giving Jeff the evil eye each time he asked for something and finally, putting her coffee pot down with a thud, putting her hands on her hips and looking at Jeff and asking "Is there anything else you want?", to the cross-country rollerblader, we had an interesting mix of people in the restaurant and I don't think Dori's Café will ever be the same again!!
When we left White Sulphur Springs, we started our 40 mile ride up the Kings Hill Scenic Byway going through the Lewis & Clark National Forest in the Little Belt Range and over King's Hills Pass at 7393' into Neihart. The Lewis & Clark National Forest is breathtaking and the ride was one that I didn't want to end because we were surrounded by all this beauty of the forest and the Little Belt Creek. There was a waterfall and a short hike to the waterfall about 2 miles from our motel, so Hersch, Jeff and I rode back to the trailhead and Rita and Doug drove back and we hiked up to the waterfall and rode back to our motel.
Our last day of riding was a 59 mile very hot ride back to Great Falls and as we made a turn we came out of the Lewis & Clark Forest and almost back to reality. After stopping at the first Dairy Queen we came to, and then the Knicker Biker Bicycle Shop, Susan and I made it back to the hotel.
A GREAT BIG special thanks goes out to Rita who made sure we had enough water every day, directed us to restaurants and things to see and do. Also, thanx to Merle who brought his laptop and downloaded all our pictures each day so that we could enjoy a slide show at our happy hours.
THANK YOU to all of the people on the tour – you made my first time leading a tour perfect!

Fern Kissel
August, 2005