THE IRELAND TRIP

Ireland Knickerbiker Cycling-Dublin to Shannon-June 19-29,2000 (by Jim Willis)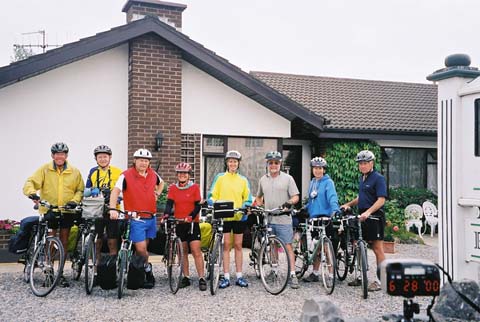 Nick Nicholson(trip leader), Cheryl Willis-Nourizadeh, and Jim Willis caught the 41 bus at noon from the Dublin airport to our B&B on Griffith Street. An elderly gentleman in a coat and tie and a nice hat got on the bus with a big smile and sat near us. We asked him where to get off and all he could do was smile. Was he hard of hearing? We asked again and then asked someone else who pointed out that the man had been in the pub all morning so all he could do was smile. That was our introduction to Ireland. Our first tour that day was to visit the Guinness factory.

Rental bikes arrived with all kinds of problems--broken water rack, two pumps for all of us, handle bar extensions that bags would not fit, and badly out of tune. It was a good thing we knew how to fix all of that. Bill Haworth, Sylvia Nielsen, Merle Vogel, and Susan Noblin arrived the next day with their own bikes, and Rita Cohen and Walter Schmitt showed up too. We enjoyed Saturday evening at a pub for dinner and great Irish live music in the very busy and fun Temple Bar area.

After touring Dublin on Sunday, we went to dinner at a pub near our B&B and then made a final pub visit that evening. At 9:00 pm all of the locals in Ireland meet at their favorite pub. That is life of the Irish.

We left Dublin on our bikes early Monday the 19th to pedal as a group through the city. It was very uncomfortable because of the very narrow streets and loads of traffic and no room for bikes., This kept up all through Greystone where it finally became country. We arrived in Wicklow after a 38.5-mile ride. The day was beautiful with short sleeve weather. The next day we headed for Wexford. It was a windy, rainy tough day. The country was beautiful, but with some hills and 20-mile headwinds, it was slow going. We pedaled 53.8 miles and our average speed was only 5.8 mph so we were in the saddle for nine and a half hours. O'Grady's B&B was in an old historic building. Mary O'Grady was a beautiful young red-haired Irish innkeeper with an architect husband and two young kids. The best places to eat were pubs. They had very good food; at lunch a bowl of soup and ration of bread really hit the spot. Since we had everything in panniers, we did our laundry often. We got used to seeing each other and recognizing them for what they were wearing.

Nick had us scheduled to catch the train the next morning to Waterford, visit the Waterford factory and then ride on to Dungarvin. The trouble was that the train left at 7:00 am and we had to ride an hour to catch it. So five of us hired a big van to take us to Waterville. The other four (Merle, Susan, Bill and Sylvia) decided to ride all the way. The distance was not bad, but with the winds, and the hills, it was a long day. They took the road along the coast and did not arrive at our B&B in Dungarvin until 9:05 pm. The rest of us spent the morning at the Waterford factory, a very interesting visit. But we had another heavy wind in the afternoon. Cheryl was tired and found a bus to catch to get her to Dungarvin. All buses seem to have a big space for bicycles, so you put your bike in the bike area and take it off when you arrive. It is a very neat system. I was beat and had a broken spoke before Dungarvin, so Nick rode ahead and got a bike shop to stay open. I got there about 7:00 pm. I inquired about the location of the B&B. The bikeman looked at me and said it was about 5 miles on the other side of town and at the top of the hill. How discouraging. It was a real hill all five miles. The closest Pub was several miles away. The innkeeper took five of us in her car to dinner and the tiny car was big enough for about three people. The four who arrived late got the same treatment. It was only Wednesday, but at 9:00 the pub quickly filled with the local Irish who hadn't seen their friends since the night before.

Thursday morning was rainy, windy and cold. We found that it was helpful to ride in a paceline even though we did not travel very fast. We were on our way to Blarney and would take a day off. Cheryl and Rita took a bus to Cork and then rode up to Blarney. All of the cities are very interesting. They are similar, with old buildings, narrow streets and tons of traffic. Cork is special since it was once like Venice with water canals. They have long since been drained and the river flows down both sides of the town. We stopped at Youghal for coffee on our way to Cork and Blarney. They have wonderful pastries. We again ate at a pub for lunch and either had soup or Irish stew.

The hills are green and the many pastures all set off like patterned quilts. There are a multitude of flowers in bloom and the moisture keeps everything green. So what do you think Ireland smells like? Yes, you are right: sheep, cow, or horse manure, but we were not able to distinguish which. We got to Blarney after 53 miles and an average of about 9 mph. That was ok. Bill had picked up a bad stomach and was miserable, but rode all the way.

In Blarney we visited the Blarney Castle to kiss the Blarney Stone. We have photos if anyone cares to see how to do that. Then we split up and went back to Cork. There is not much in Blarney. In Cork, I contemplated renting a car to finish the ride, but that wouldn't be fair and I would not want my friends to think I was a wimp. But I told myself that if the weather continued I would try the wimp pace. Fortunately, the wind stopped and the rest of the trip was very nice. Rita left our ride to meet her son in Dublin. The trains were on strike, so she took the bus.

Saturday we left for Killarney. Cheryl and I rode to Macroom. She was stressed, so we rode on a bus the rest of the way to Killarney. On the way through Macroom we caught up to the other six. We saw them riding in a line of cars on a very narrow street. The only thing good was that traffic was moving so slowly they could ride along with the flow and not be in anyone'sway. Cheryl, Walter and I walked to the local golf club to have dinner. It was 9:00 and they were still playing golf. And after that, the 19th hole was like any other pub. The others rode their bikes to town to have dinner.

Sunday we rode to Waterville around the West side of the Ring of Kerry. What a spectacular day this day was. There were quite a few hills and the total climb was 3770 ft. It was sunny and no wind. We went through places like Muckross, Moss Gap, and Sneem. Cheryl and I rode ahead and the rest caught up about 9 miles from Waterville. Waterville is on the South Side of the Ring of Kerry. Shortly after that, Bill had a blowout that ruined his tube and tire. We went ahead up the hill before dropping into Waterville. The view was special, with patchwork fields of green, brown, and gold, dotted with white specks (sheep), and with rock fences as the stitching for the quilt. The Ocean lay beyond. Merle went back to see if he could help, since he was carrying an extra tire. His return required an uphill effort. We arrived at B&B about 7:00 showered and then walked to Charlie's Pub for dinner. The food was excellent.

Monday we pedaled to Tralee, where we had coffee and Scones in Kilorglin. That finished the Ring of Kerry. This part is not as pretty as the other side, but it was nice. In Castlemaine, Nick and I stopped at Griffins Pub. A friend of the man that owns the Blarney Stone Pub in San Diego, Jim Foley, owns it. Nick is a friend of Jim's so it was fun. Generally our group broke into small groups to ride and sometimes we were together. In Tralee our B&B was outside of town so we rode our bikes to dinner. It does not get dark until after 10:00 pm so lights were not needed. Tuesday started with a typical Irish breakfast. This included, bacon, sausage, eggs, tomatoes, potatoes, bread, cereal and sometimes a little fruit. Coffee, tea or milk were included so you could eat all you wanted. Adare was 54 miles away, and it was a nice short-sleeve day. Just before we got out of town, Nick had a broken spoke. We rode all over trying to find a bike shop. When we did it was about a block from where it broke. You should have seen the shop. It had 500 old bikes piled up that Jerry was supposed to fix or was saving for parts. What a mess, but he knew how to fix a spoke, although we had to loan him our spoke wrench. Nick and I stopped in Athea for lunch at a Pub. As we were leaving, the Pub started to fill up. Why was that? There had been a funeral and this was the place where all were meeting afterwards. It was sort of a potluck party. Social life really revolves around the Pubs in Ireland. Outside of Adare the road narrows and the traffic is unpleasant. We made it without mishap. Cheryl and I went to the Collins Pub after dinner to hear local Irish Music. They are a fun people.

Our last day riding was to Bunratty. We had breakfast and took a lot of group photos. We went through Limerick where the bikes had been rented. Limerick is the setting for "Angela's Ashes." We visited King Johns's Castle and saw the Shannon River. I ran over a good sized nail and had my first flat with only a few miles to go. We stayed in two B&B's in Bunratty. This one was the only one not so good and had an especially crabby landlady. The other was very nice. Our biking trip ended here after riding over 400 miles. That night we went to the famous banquet at the Bunratty Castle. You start with wine in one of the chambers and then proceed to the dinning chamber. The chambermaids and lads also take part in the singing that follows. It was fun and a special evening. We ate with our fingers and drank soup from a bowl.

We stayed in Bunratty an extra night as most of the flights left the next day. One slight foul up had Bill and Sylvia leaving on July 29 instead of June 29. They were able to change that, but could not ride home together.
This was a very special trip. Our trip leader, Nick Nicholson, did a super job in planning. The ride was not the easiest, but it was wonderful with a special group of biking friends. Nick kept telling us, "I shouldn't eat this because Rhonwyn would not approve." That did not apply to beer of any type, however.



May the road rise to meet you, may the wind always be at your back,
may the sun shine warm upon your face, the rains fall softly on your fields,
and until we meet again, may God hold you in the palm of his hand.