THE BRITTANY TRIP

Last month, 13 Knickerbikers, under the capable leadership of Ralph Peterson and Rona Djeddah, enjoyed two weeks cycling in France, covering much of the Brittany peninsula. Brittany is noted for its beautiful countryside and ocean vistas, quaint people, and delicious seafood. Eileen Byers, Marta Hurwitz, Bonnie Brennan, Jean Monfort, Allen Craft, Caryl Parrish, Walter Schmitt, Ken King, George Copeland, Helen Santospago and Arlene Jones are grateful to R & R for arranging such a delightful trip (and making sure the weather was perfect!).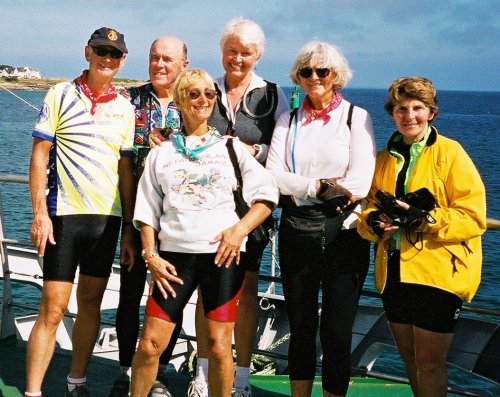 Many of us arrived early to play tourist in Paris, and Jean's hotel recommendation worked just fine for five of us; we even shared one large room! Paris is aptly named the city of lights, but some of us think that "city of stairs" would be more descriptive. Of course, we did voluntarily add a few hundred stairs by climbing up to Quasimodo country to pet the gargoyles at Notre Dame.

On the day before the tour started, we took the TGV (France's high-speed train) west to Brittany where our skilled and friendly tour arranger Geoff (the owner of BretonBikes) met us and drove us to a small town in the middle of the province where he had our rental bikes and our first night's accommodations. The bikes were surprisingly comfortable, and the panniers held all we needed for the two weeks.

We fell into a pleasant routine of breakfast (croissants, coffee and orange juice) at 8:00 AM and dinner at 8:00 PM (it was still light at 10:30), with lunch in one of the small towns where we shared baguettes, cheese, fruit and other tasty morsels. On one rainy, chilly day, hot buckwheat pancakes filled with smoked salmon and cheeses tasted particularly good. We quickly learned how to find the restaurants and pastry shops!

We toured eastward along the northern coast of Brittany, taking in the ancient walled city of San Malo and the rugged coastline. We walked around the old city on the ramparts that circumscribe it, absorbing the history of the place.

The next day found us wandering around the polders (reclaimed land with rich farmland and roads on top of dikes), some of which weren't even on the very detailed maps that Geoff had given us. We met an aggressive-looking rather large dog that shied away as we advanced. His master told us that his dog was afraid of our helmets. At least that what we think he said. Mont St. Michele was looming in the distance as we wandered through the polder farmland, and the next day we hiked this magnificent rock which has an abbey on top, perhaps the most photographed Brittany landmark. On particularly high tides it is (or used to be) completely surrounded by the sea, making an imposing sight-and a defensible fortress!

From there we turned inland, dropping down to Dinan, another picturesque ancient city, and on to the southern coast, where one of the highlights was the "alignments" near the town of Carnac. Several of the gently rolling green fields were sprouting hundreds of megaliths, giant stones ranging in height from four to 8 feet. These stones were lined up in an east-west direction and stretch for a few kilometers. One site had 1,100 of them! Like Stonehenge, there are many theories about their origin, but no agreement.

Then we had a vacation from our vacation by spending two nights on Belle Isle, a picturesque island lying off the Quiberon Peninsula. Our hotel had a spectacular view of the harbor and the huge citadel nearby. Some spent the layover day cycling, and others just explored the town and its surroundings.

For the next two days we rode north back to the start of our ride. Many of those miles included cycling along tow paths that ran along canals. Some of the canals were built by Napoleon to assist him in coping with the blockade imposed by the English. They now served us as flat, traffic-free routes through the countryside. Occasionally, a town or a railroad bridge would appear.

On the last day, we slowly rode toward the end, savoring every pedal stroke, and silently wondering when we could return to this idyllic cycling country!